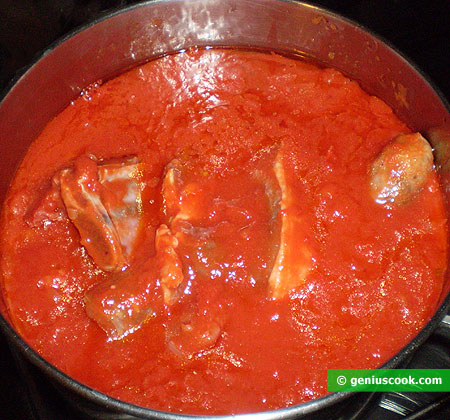 Neapolitan ragù is a sacred, festive, and traditional dish. It is a masterpiece of the Neapolitan cuisine.
There are even poems, plays, and movies dedicated to the ragù. For example, Lina Wertmüller screened a comedy play by Eduardo de Filippo, "Saturday, Sunday, Monday". It is a wonderful movie starring Sophia Loren. There is an episode at the butcher's where Sophia Loren selects pieces of meat for ragù, and the hostesses nearly start to fight arguing which kind of meat is better and how to cook it properly. After all, each home has its secrets of a delicious ragù.
For a ragù, you need to take different kinds of meat. It should be prepared for a long time, over very low heat. Neapolitan women begin to cook ragù early in the morning and eat it for dinner the next day. Usually, they start cooking on Saturday, and eat the dish on Sunday at the festive table with the whole family.
Ingredients for Neapolitan Ragù
Veal (shoulder): about 0.5 kg.
Beef on the bone: about 1 kg.
Pork (ham): 0.5 kg.
Mutton, lamb: 0.5 kg.
Homemade sausages (with or without): 3-4.
Onions: 2-3
Tomato puree – pureed tomatoes (passata di pomodori): 2 liters.
Olive oil: 3-4 tbsp
Dry red wine 1 cup.
Basil, salt to taste.
Recipe for Neapolitan Ragù
Pour some olive oil into a large saucepan with a thick bottom, and fry finely chopped onion until soft.
Put large chunks of meat into the saucepan and lightly fry with onions.
Pour some wine, and in a couple of minutes, add some tomato puree.
Salt to your taste. Be careful with salt: it is better to salt less in the beginning, and fix the taste in the end, because due to the long cooking time, most of the liquid evaporates, and your ragù can be too salty.
Add some basil, cover the saucepan with a lid, and stew your ragù stirring it occasionally, over very low heat. The ragù should not boil, only gurgle a little.
Given that modern meat is not so tough as it was before, your ragù will be ready in 3-4 hours. However, you should watch your saucepan. At the end, the sauce should be very thick and envelop the meat.
Traditionally, ragù is eaten so: you take out the meat from the sauce.
Cook some short hollow pasta, put the sauce over it generously (don't forget to sprinkle with grated Parmesan), and serve for the main course. The meat is eaten for the second course. It turns out a substantial meal for a large family.
https://geniuscook.com/wp-content/uploads/2014/01/salsa-con-carne-in-pentola.jpg
420
450
Elena and Alfredo
https://geniuscook.com/wp-content/uploads/2014/02/gc-logo2.png
Elena and Alfredo
2014-01-16 06:58:33
2014-01-16 06:58:33
Neapolitan Ragù Recipe