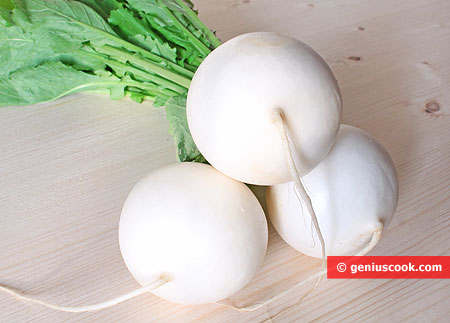 Turnip salad with green onions
Try this light salad, made from juicy white turnips and spring  green onions, for health and variety.
Turnip is low -calorie product that helps losing weight. And yet has a high nutritional value. It contains much vitamin C, beta carotene, mineral salts, essential oils.
A low sugar content makes it useful even for diabetics.
Ingredients for Turnip salad
Turnip : 2-3 tuber.
Green onions.
Olive oil : 2 tablespoons.
Lemon juice.
Salt, black pepper, oregano: to taste.
Cooking instructions for Turnip salad
Do turnips cut stems. Tubers peel and cut into thin slices .
Mix cuted turnip with green onion.
Season with olive oil and lemon juice.
Salt, pepper, and sprinkle with dried oregano.