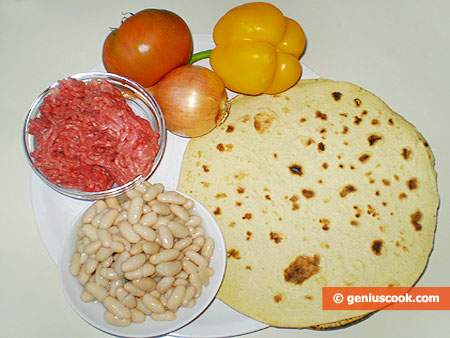 Burritos or Burrito – a stuffed tortillas. Burritos is a favorite dish the Mexicans. The stuffing usually contains beans, tomatoes and cheese. It can include different kinds of vegetables or meat. It is a dish over which you can improvise a lot.
Ingredients for Beef Burritos
6 tortilla cakes
0.8 lb minced beef
0.4 lb boiled kidney beans
2 tomatoes
1 sweet pepper
1 onion
0.1 lb cheese
red hot pepper, spices, salt, vegetable oil to taste
The Recipe for Beef Burritos
Buy or make flat cakes on this recipe How to Make Wheat Tortillas.
Pour a little oil onto a frying pan and fry finely chopped onion.
Add chopped tomatoes,  sweet pepper and after 5 minutes add minced meat. Fry for 3-4 minutes.
Add red hot pepper, spices, kidney beans.
Salt to taste and simmer uncovered for about 4-5 minutes, stirring now and again; add grated cheese just before turning off the heat.
Warm the flat cakes and put the stuffing in.