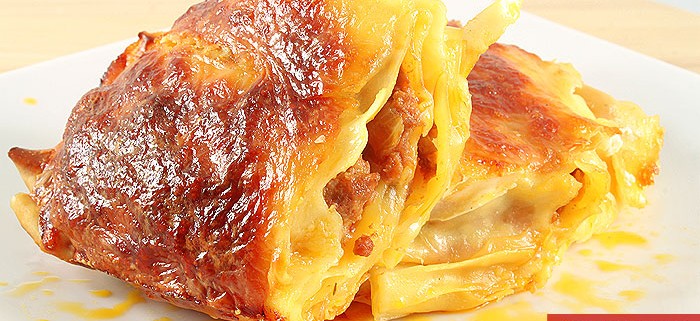 Bauletti with Meat Recipe
This is our original recipe, which was inspired by a dish from the restaurant Rustichella, in Abruzzo, Italy. One serves delicious envelopes from pasta with ricotta and spinach there. They are called bauletti.
However, we decided to cook them with meat. Yes, we have added a few more unusual ingredients, which made the dish sparkle with new colors and taste luxurious, so that we really got ecstatic.
This is a substantial delicious dish with a delicate flavor, which can serve as the main course even on a holiday table.
Reminds lasagna, although there are differences in cooking, ingredients and taste.
Ingredients for Bauletti with Meat
Ground beef or veal: 650 gr.
Sweet-sour large apple: 1
White onions: 2
Grated fresh ginger: 2 tablespoons
A few leaves of sage.
Tomato paste: 1 tbsp
Grated Parmesan cheese: 100 gr.
Mozzarella: 200 gr.
Salt and pepper to taste.
Olive oil: 4-5 tbsp
Butter: 30 gr.
Sheets for lasagna: 12 pcs.
Recipe for Bauletti with Meat
Melt butter in a saucepan and fry chopped sage leaves.
Then pour olive oil, add grated ginger, finely chopped onions and apple.
Simmer over low heat until soft, about 10 min.
Add ground beef, salt, pepper, and tomato paste. Simmer these ingredients together 10 min.
Add a couple of tablespoons of grated Parmesan cheese. The filling for bauletti is ready.
Then boil lasagna sheets, one at a time, for just a couple of minutes in salted water. Put them on a greased wide dish.
Then cut each sheet into 2 parts. In the center of each half, put the filling and roll them in the form of an envelope.
Stack envelopes in the greased mold. Cover them with sliced mozzarella and sprinkle with Parmesan cheese. We had 2 layers bauletti, and between them and the top – mozzarella and Parmesan.
Bake in the oven at 180C about 20 min,  until golden color.
https://geniuscook.com/wp-content/uploads/2014/12/bauletti-con-carne1.jpg
467
700
Elena and Alfredo
https://geniuscook.com/wp-content/uploads/2014/02/gc-logo2.png
Elena and Alfredo
2014-12-15 17:28:55
2015-03-06 11:21:32
Bauletti with Meat Recipe