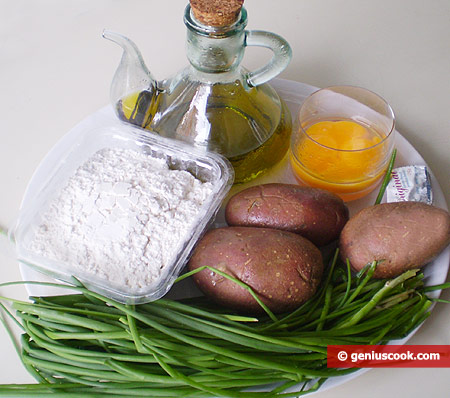 The Recipe for Potato Pies
This is the very recipe for those who like soft pies. The thing is to treat some part of flour with boiling water and add in dough only egg yolks. It makes the bake soft and airy like a cloud. Today we made such pies with potato and green onions, but you can take anything you like for the stuffing.
Ingredients for dough
1.8 lb flour
0.93 pt or 2.25 glasses water
4 tablespoons melted butter
0.05 lb yeast
3 egg yolks+ 1 egg for smearing
4 tablespoons olive oil
Ingredients for filling
3-4 potatoes
a bunch of green onions
3 tablespoons grated any cheese
butter to taste
olive oil, salt and pepper: all to taste.
The Recipe for Potato Pies
Boil potatoes in jackets, let them cool down and peel them. Mash them with butter, add grated cheese and chopped leek, add olive oil, salt and pepper to taste.
Make yeast active by mixing it with 2 tablespoons of warm water, flour and a pinch of sugar, and leave to come to for about 20-30 minutes.
Pour a glass of boiling water over a glass of flour from the list of ingredients. Let it cool down until it's warm.
After it has cooled down, add the rest of the flour, activated yeast, salt, yolks and butter. Knead soft non-sticky dough, work on it for about 10-15 minutes. If the dough is still sticky, add some more flour.
Roll the dough into a ball, put it into a deep dish, cover with a film. Leave it to stand for 2 hours.
Then roll it into a braided strap and cut across into pieces of the same size.
Press each piece into a flat circle, put the filling into the middle and pinch the edges shut.
Place the pies seam down on the baking tray. Smear with butter and leave to come to for an hour, then smear with egg.
Bake in the oven pre-heated to 356 degrees for about 25-30 minutes.
https://geniuscook.com/wp-content/uploads/2012/05/ingredient1.jpg
398
450
Elena and Alfredo
https://geniuscook.com/wp-content/uploads/2014/02/gc-logo2.png
Elena and Alfredo
2012-05-25 17:43:41
2012-05-25 17:43:41
The Recipe for Potato Pies