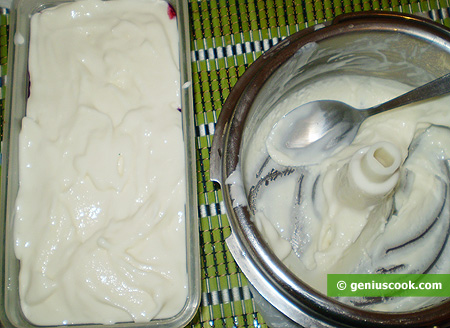 The Recipe for Milk and Currant Ice Cream
This double-layer ice cream is made from natural products, which makes it a deal better than a ready-made one.
Sweet milk ice-cream combined with flavorful sour-tasting black currant sorbet boasts an inimitable taste and makes a good refreshment.
Ingredients for Milk Ice Cream
Milk: 1

liter

.
Milk powder: 150 gr.
Condensed milk: 100-150 ml.
Cornstarch: 3 tablespoons
Sugar: 3-4 tbsp or taste.
Ingredients for black currant sorbet
Black currants (fresh or frozen): 500-600 gr.
Sugar to taste.
Recipe for Milk and Currant Ice Cream
Make milk ice-cream according to the Recipe, lay it into a container and put away into the freezer.
Make puree with currant using a blender. Add Sugar to taste. Pour it into the bowl of an ice-cream machine and make a tender sorbet.
Put layers of milk ice-cream and currant sorbet into a large form.
Deposit it into the freezer.