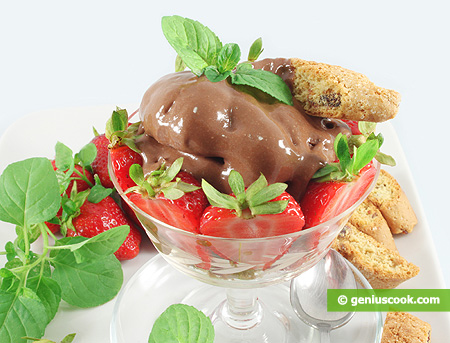 The Recipe for Chocolate Cream Dessert with Strawberry
Having a little time and fantasy, you can make an incredibly tasty dessert from berries, pieces of dried cantuccini and chocolate cream. Give it a try!
By the way, savoiardi cookies will come in fine instead of cantuccini.
Ingredients for Chocolate Cream Dessert
Chocolate 70-80%: 150 gr.
Mascarpone cream cheese: 150 g.
Sugar: 2-3 tbsp
Milk: 3-4 tbsp
Cantuccini cookies (you can bake for this Recipe), strawberry, mint: to taste.
Recipe for Chocolate Cream Dessert
Mix milk with sugar, add chocolate broken up into pieces.
Melt the mixture by

water bath

or microwave

.
Mix the warm chocolate mixture with cream cheese.
Set the cream into the fridge

for

2-3

hours

.
Serve cold with strawberry, mint and pieces of cantuccini.