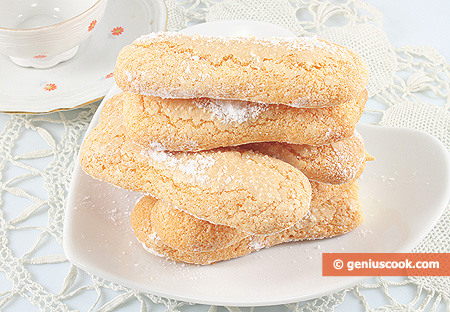 The Recipe for Savoiardi Cookies
It is a highly inventive recipe of finger-shaped sponge biscuit going back to the XV century. It is believed the cookies were first made by cooks at the court of the Duke of Savoy.
As all natural sponge cakes, Savoiardi contains no aerating agents other than whipped up whites and yolks.
Savoiardi soaks up liquids well, which makes it a perfect thing for desserts – with liqueurs, ice cream, cream and sweet sauces; it is a must for making any kind of Tiramisu. Savoiardi will make an excellent breakfast, you will enjoy it dipped in a cup of milk or coffee.
It can easily be found in most countries, but, having tried to cook it at home, we decided that it is tastier than factory-made one.
Ingredients for Savoiardi Cookies
Flour: 100 gr.
Potato or corn starch: 40 gr.
Finely ground sugar: 100 gr.
4 eggs.
A pinch of salt.
A few drops of lemon juice.
Vanilla.
Powdered sugar for sprinkling.
Recipe for Savoiardi Cookies
Separate the whites from the yolks.
Whip up yolks with 0.1 lb sugar until they make thick cream.
Whip up whites until you get hard spikes.
Sift flour with starch on whipped yolks and knead dough.
Mix in whipped whites, moving the turner from downside up.
Put some parchment on a baking tray.
Put the dough into a piping bag and put long sticks to set it apart, leaving some space between the pieces. Drizzle with sugar powder.
Bake in the oven pre-heated to 340 degrees for about 15 minutes.
Let Savoiardi Cookies cool down on the rack and then pick them up carefully from the paper.
https://geniuscook.com/wp-content/uploads/2014/10/savoiardi-pronto.jpg
312
450
Elena and Alfredo
https://geniuscook.com/wp-content/uploads/2014/02/gc-logo2.png
Elena and Alfredo
2013-02-25 16:25:47
2014-10-15 06:10:02
The Recipe for Savoiardi Cookies