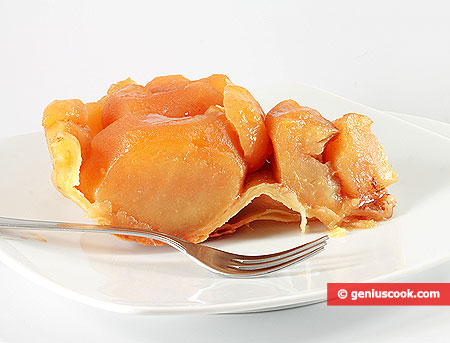 A French upside-down tart made of thin dough filled with apples is a true delicacy with exquisite taste. Tarte Tatin goes well with vanilla ice cream or whipped cream.
Ingredients for Tarte Tatin
Medium size apples: 9-10
Finely ground sugar: 150 gr.
Butter: 140 gr.
Puff pastry (we do it on this Recipe) or Breeze dough: 250 gr.
Form with high sides of 24 cm diameter
Recipe for Tarte Tatin
Peel the apples, cut them into halves, remove the core.
Melt butter in a mold, add sugar, and, stirring constantly, prepare caramel. Take off the stove.
Put apple halves into the warm caramel vertically and close to each other.
Return the mold onto the stove, cook the apples over medium heat for 10 minutes, then change their position, turning each half apple so that they are better soaked in caramel.
Roll out the dough thinly, cut out a circle 2-3 cm bigger than the diameter of the mold.
Put the dough over the apples, tucking the edges inward and pressing to the apples. Cut a hole in the center with knife so that the steam comes out during baking.
Bake until the dough is ready, at 180C, about 40 minutes.
Remove the mold from the oven, put on a wide dish and turn upside down.
Now you can finally discover the delicious taste of the apple Tarte Tatin.