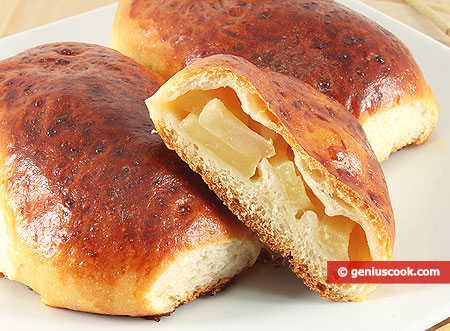 How to Make Pies with Apples
This dough can be used for all kinds of pies, but we prefer to have them with apples.
The juicy flavorful filling steeps the dough, and you get tender pies that melt in the mouth.
Pies long time remain very soft.
Ingredients for dough for Pies with Apples
Flour: 500 gr.
Milk: 1 cup.
Sour cream (we had Greek yogurt, 10% fat), 50 gr.
Butter at room temperature: 80 gr.
Malt syrup (or honey): 1 tsp
Salt: A couple pinches or 0.5 tsp
Sugar: 2 tbsp
Fresh yeast: 40 g. or 15 grams dry.
For greasing: 1 egg yolk + 1 tsp cane sugar.
For filling
Apples: 4 pcs.
Cinnamon 0,5 tsp, 2 tablespoons sugar.
Recipe for Pies with Apples
Dilute yeast with milk, add 2 tablespoons flour, malt, sugar, and wait until it is properly activated.
Mix all the ingredients in a bowl and knead dough.
Leave it to ferment for 4-5 hours.
Form a braid and cut it into pieces.
Press each piece flat with your fingers, put the filling in the middle and pinch the edges closed. Filling – peeled and diced apples, mixed with sugar and cinnamon.
Put the pies seam down onto a baking tray with parchment.
Leave for 1 hour.

Then g

rease with yolk and sugar.
Bake at 355 degrees, about 40 min.