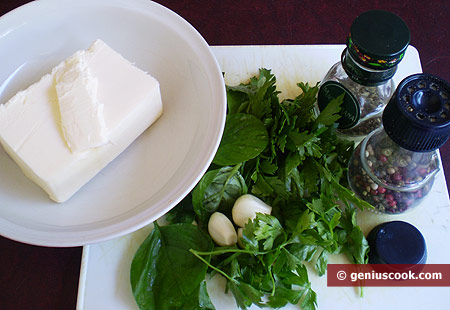 The Recipe for Aromatic Green Butter
An ordinary slab of butter can be transferred into something far more exciting and tasty. Sandwiches and snacks with this kind of butter look striking, catching the eye with its green hue. It can be added to various meat, fish or game dishes. It will add new flavors to old sauces. Besides, this butter will be a few notches more wholesome, because we mix it with fresh greens and spice that are teeming with vitamins.
Ingredients for Green Aromatic Butter
0.4 lb butter
3-4 tablespoons grated Parmesan
parsley, basil, dill, mint: to taste
2-3 garlic cloves
salt, a mixture of fresh ground different peppers, oregano, marjoram: all to taste
Recipe for Green Aromatic Butter
Rub garlic with other spices according to taste.
Mix it with finely chopped greens and salt.
Mash butter with cheese, put together with all the ingredients and give it a good mix-up.
Spread it on a piece of bread.