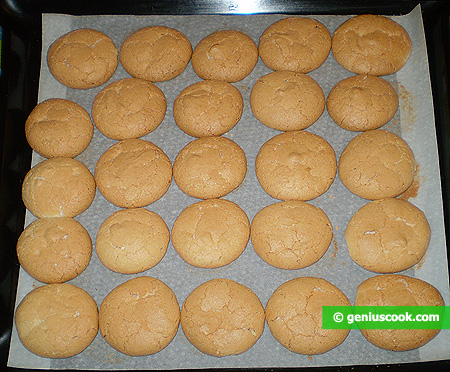 The Nut Cookies with Chocolate Icing Recipe
These tender cookies are made from chopped nuts with whipped egg whites, and no flour at all! That's why people with gluten intolerability can indulge in this treat unreservedly. The only disadvantage of these cookies is that they get gobbled up fast!
Ingredients for Nut Cookies with Chocolate Icing
Peeled hazelnuts: 50 gr.
Peeled almonds 70 gr.
Sugar: 100 gr.
Egg whites: 3
A few drops of lemon juice.
A pinch of cardamom.
for the icing
Dark chocolate: 50 gr.
Butter 20 gr.
Recipe for Nut Cookies with Chocolate Icing
Grind nuts with 0.1 lb sugar until you get flour.
Whip up egg whites with 0.1 lb sugar and

lemon juice,

until you get hard spikes.
Mix chopped nuts and whipped whites together,

add a pinch

of cardamom

.
Set the dough in small portions onto a baking tray overlaid with parchment. You can do it with a spoon.
Bake for about 20 minutes at 340 degrees.
Let the cookies cool down on the parchment.
Melt the

chocolate

and butter

in a water bath

and cover the cookies with the mixture.