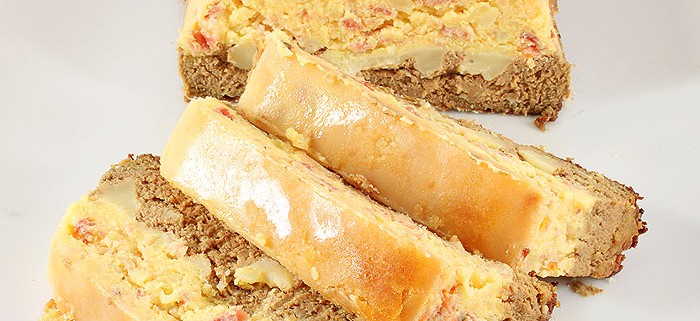 It is a tasty and nourishing dish, which resembles casseroles that can be cut into slices. It tastes good when warm or cold.
You can serve terrine as an appetizer, or main dish.
Terrines very easy meals, because you can use a variety of products that are at hand, experimenting with spices and herbs.
Therefore, the variation there are many, they can only limited by your imagination and taste.
Ingredients for Terrine with liver, potatoes and pancetta
Beef liver: 300 gr.
Onions: 2
Potatoes: 3-4 pieces.
Pancetta (or bacon): 100 gr.
Butter: 100 gr.
Grated hard cheese: 100 gr.
Eggs: 2
Nutmeg: 0.5
Salt and black pepper.
Recipe for Terrine with liver, potatoes and pancetta
Boil the potatoes in their skins, peel and mash them with with half butter, cheese, and 1 egg.
Add nutmeg and chopped pancetta, salt, pepper.
Cut the liver into pieces and stew it with onions.
Put stewed liver in a blender and grind it.
Add salt, other half butter, cheese, and an egg.
Grease a rectangular-shaped baking sheet and sprinkle it with bread crumbs.
Put potatoes with pancetta and add an even layer of liver on top.
Bake terrine for 40-50 minutes; remember to put a container with water under the baking sheet.