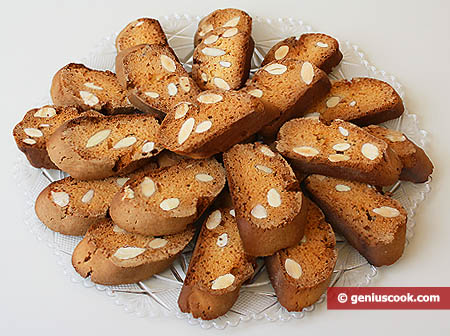 How to Bake Cantucci, Hard Almond-Flavored Biscuits
Cantucci or cantuccini, porous hard almond-flavored biscuits that look more like crackers, were born in Florence, the capital of Tuscany region where it is customary to eat Cantucci dipping them in sweet wine. Or it is possible to say that these hard biscuits were specially invented for dipping in wine. Italian stores offer boxes of Cantucci accompanied by a bottle of sweet wine. These crackers are also quite palatable when dipped in freshly brewed tea or strong coffee. Here is the original Cantucci recipe from us. Follow the cooking instructions and you'll be delighted with the taste. This is so delicious to dip Cantucci into sweet wine and the biscuits absorb it fast, never crumble or fall apart. Children may also enjoy Cantucci with milk.
Ingredients for Cantucci
3 ½ cups (800 g) flour
1 ¼ cups (300 g) sugar
300 g almond
4 eggs
25 g yeast or baking powder 1 tsp
Vanilla to taste
Salt
1 teaspoon honey
½ teaspoon baking powder
3 tablespoons butter
Drops of orange oil
Cooking Instructions
Separate the yolks from the whites. Beat the yolks with ½ cup of sugar (150 g), yeast and baking powder until the mixture becomes white and fluffy.
Whip egg whites with another ½ cup of sugar (150 g) until soft peaks form.
Incorporate everything, add a pinch of salt, softened butter and a teaspoonful of honey.
Gradually add flour stirring well until dough is smooth and non-sticky.
Add a few drops of orange oil and vanilla at the end.
Put dough on the table and sprinkle with whole almonds. Knead almonds into dough and shape dough into long bars and place them on a cookie sheet covered with parchment.
Bake for 30 minutes in an oven heated up to 356 F (180 C) .
Remove the cookie sheet, slice the warm bars into about one inch thick (2 cm pieces.
Place the cookie sheet back to the oven for 10-15 minutes.
When the biscuits are brownish, serve.