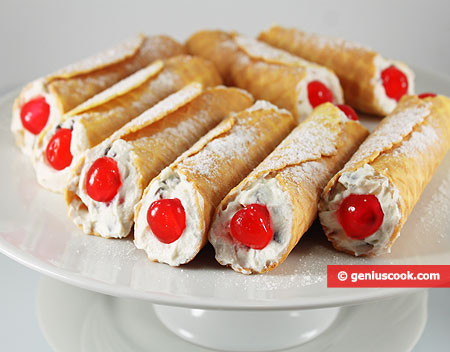 In fact, these are Sicilian cannoli. The only difference is that we baked the waffles in a waffle iron, but not rolls in boiling oil, as it is traditionally done in Sicily.
But the filling is exactly traditional – ricotta, candied fruit and chocolate.
We have and traditional recipe here – Sicilian cannoli
Ingredients for Sicilian Little Tubes with Cream
for the dough
Flour: 250 gr.
Warm water: 125 ml.
Eggs: 2
Butter: 125 gr.
Sugar: 200 gr.
A pinch of salt.
for the filling
Ricotta: 300 gr.
Candied fruit: 100 g.
Chocolate chips: 100 gr.
Powdered sugar for sprinkling.
Candied cherries for decoration.
Recipe for Sicilian Little Tubes with Cream
Bake the waffles on this Recipe waffle cones and fold them

with a

cylindrical form

. The tubes should not be large, so take half a tablespoon of dough for each.
Prepare the cream filling: whisk the ricotta and mix it with candied fruit and chocolate.
Fill the little tubes with filling, and decorate them with cherries.
You can use immediately or store in refrigerator.