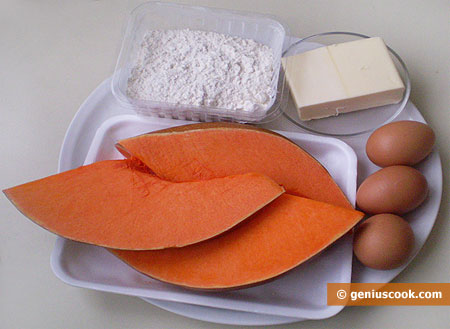 How to Bake Pumpkin Puffs
You can make pumpkin puffs using store-bought puff pastry. But it is better to make puff pastry yourself because of trans-fats and harmful margarine which is put into store-bought pastry. Pumpkin is a healthy and tasty vegetable. Pies, cakes, puffs with it are sweetish, juicy and very pleasant to taste. Pumpkin juice is apt to seep out while baking. To prevent that, once you have drizzled the grated pumpkin with sugar, pour out surplus juice and add two spoonfuls of breadcrumbs.
Ingredients for Puff Pastry
1.1-1.3 lb flour
0.4 lb butter
2-3 eggs
1 tablespoon 6% grape vinegar
1 teaspoon salt
1 tablespoon sugar
0.3 pt/ 0.6 cup water
Ingredients for Stuffing
1.1-1.3 lb pumpkin
0.2 lb sugar
1 teaspoon cinnamon
Cooking Instructions
Heap the sifted flour into a bowl; add icy water, salt, sugar, vinegar, eggs.
Knead elastic dough until not sticky. If it is sticky add some flour.
Then roll out the dough very thin, it should be almost translucent. Brush it with melted butter all over the surface carefully. Stretch the dough with your hands as thinly as possible, but without breaking it.
Coat it with butter again, roll up the dough, put it into the fridge for 2 hours.
After that roll out the roll again into a very thin layer and coat it with melted butter again. Roll up the dough again.
Cut up the dough roll into slices. They must be nearly square. Roll them out thinly from the centre to the edges very carefully.
Put pumpkin, grated and mixed with cinnamon and sugar, on the edge of each rolled-out piece.
Roll up the pieces, put the opposite sides together and pinch them shut.
Put the puffs on a baking sheet, coat them with butter and place into the oven pre-heated to 350 degrees.
Bake the puffs for about 30-40 minutes. They are ready when nicely golden.
https://geniuscook.com/wp-content/uploads/2009/11/Ingredients-for-Pumpkin-Puffs.jpg
329
450
Elena and Alfredo
https://geniuscook.com/wp-content/uploads/2014/02/gc-logo2.png
Elena and Alfredo
2009-11-16 16:37:02
2014-10-29 06:05:10
How to Bake Pumpkin Puffs