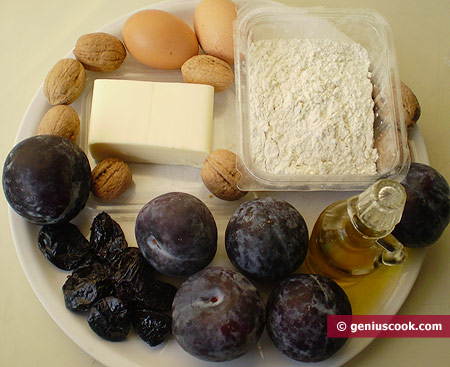 It's another highly popular version of strudel. Since fresh ripe plums are way too juicy for the recipe, making the strudel too watery and therefore difficult to bake properly, it's a good idea to add dried plums, raisin and nuts. The recipe may require a bit more or less flour than is given here, it will depend on its absorbing quality and from the producing country. Here the ingredients for 2 strudel.
Ingredients for dough
0.8 lb flour
1 tablespoon vinegar
3 tablespoons olive oil
2 eggs
0.3 pt or ¾ glass water
0.3 lb butter
Ingredients for filling
2.2 lb plums
0.4 lb dried plums
0.4 lb raisins
5-6 tablespoons sugar
8-10 walnuts
6-7 tablespoons rusk flour
Recipe for Plum Strudel
Cut plums into large pieces. Mix fruits and crushed walnut kernels with sugar and 2 tablespoons rusk flour.
Make the dough according to the recipe Apple Strudel
Smear the rolled dough with melted butter, sprinkle with rusk flour and lay out the filling over about half the surface.
Roll up the dough helping yourself with a cloth so as to prevent the dough from breaking.
Place the strudels on a pre-oiled baking tray. Smear the rolls over with butter.
Bake at 356 degrees for 40 minutes. Then turn the heat down to 266 degrees and continue baking for another 30 minutes, thus allowing the strudels to bake well both inside and out. Smear butter over them 3 times during baking.
https://geniuscook.com/wp-content/uploads/2011/11/for-strud.jpg
367
450
Elena and Alfredo
https://geniuscook.com/wp-content/uploads/2014/02/gc-logo2.png
Elena and Alfredo
2011-11-15 15:59:28
2011-11-15 15:59:28
The Plum Strudel Recipe