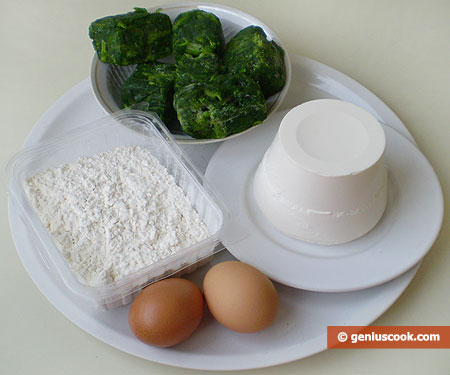 The Ravioli with Ricotta and Spinach Recipe
Ravioli is a very popular dish in the Italian cuisine. They cook this dish in different ways; each region has its own recipes. You can use any fillings – vegetables, mushrooms, ham. The dough is made with many eggs, 6 or 8 as a rule. We put only 4 eggs in the dough for dietary purpose, but you can put in more eggs. Ravioli with ricotta and spinach have a delicate taste. You can eat them at once boiled in salted water or you can cook them for future use and put them into the freezer. Traditionally they eat ravioli with tomato sauce in Italy, but you can improvise according to your taste.
Ingredients for Dough
about 1.5 lb flour
4 eggs
0.2 pt water
Ingredients for Filling
0.8 lb ricotta
1.3 lb spinach (you can take frozen)
salt
Cooking Instructions
Heap the flour on the table and make a hole in the middle. Break an egg and pour some water in there.
Knead elastic dough. It's difficult to tell just how much flour is needed, just add it gradually until you see that the dough has gotten smooth and soft and not sticky. Leave the dough for about 15-20 minutes, covering it with a towel or some napkin to prevent it getting too dry.
Meanwhile you can prepare the filling. If you have fresh spinach, boil it. If you have frozen spinach you only need to defrost it. Then squeeze all the water from spinach and chop it with a knife finely. Mix the spinach with ricotta and salt to taste.
When the filling is ready, you can start rolling out the dough. Roll it thin, then cut it into squares or use a glass to cut out small disks. Put the filling in the middle of each disk and fix the edges.
There are many ways to make raviolis. They can be round, half moon-like, triangular, dumpling-shaped or square. You can cut off the edges with a special profiled knife for ravioli or you can just fix them with your fingers pressing dough edges together.