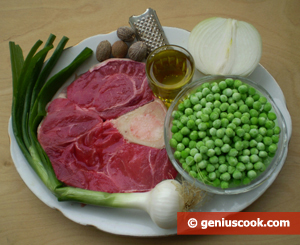 Recipe for Ossobuco with Peas
Ossobuco is an Italian dish made with thick slices of veal shank, preferably cut from the middle part of the shank. Muscular bone-in meat contains marrow.
Ingredients used in this recipe are a good source of healthy substances. In our recipe, we make Ossobuco with shanks of older veal (12-18 month old) that have more proteins than those of younger veal (less than 12 month old) whose meat is more watery.
Ossobuco provides us with essential vitamins and minerals such as iron that helps avoid anemia and vitamin PP (niacin) that prevents dermatitis, muscle weariness, bad memory and depression.
It is noteworthy that marrow is a good preventive measure against anemia, chronic lung disease and blood cancer; in addition, marrow also contains polyunsaturated fats, linolic and linolenic acids.
Green onion is a very rich source of chlorophyll. Peas offer some trace elements that may help against liver disorders, pancreatic gland disease, diabetes, gout and inflammation of small intestine.
Ingredients for Ossobuco with Peas
1.3/1.5 lb (600-700 g) veal shank (2 pieces)
1 lb (450 g) fast-frozen green peas
1 onion bulb
1/3 cup extra-virgin olive oil
half of 1 nutmeg (or to your taste)
1.3 lb (600 g) green onion
Salt to taste
2 cups tomato paste (puree)
Recipe of Ossobuco with Peas
Wash and peel green onion.
Cut onion bulb into thin slices.
Put 1/3 of olive oil in a frying pan (use ceramic frying pan if possible).
Put thin onion slices and peas in a frying pan and add 1/2 cup of water and salt to taste.
Cover and simmer over low heat for about half hour.
In the meantime, finely chop green onion, then combine with onion slices and peas in frying pan, cook for 5 minutes and turn the heat off.
Pour remaining olive oil in a larger frying pan. Sauté onion over medium heat. When onion is done, add tomato paste.
Make a few cuts at the edges so that the meat doesn't roll when frying.
Sprinkle veal shanks with grated nutmeg.
Season the meat with salt to taste, cover and simmer for 10 minutes.
Flip veal shanks over, cover again and simmer for 10 minutes. The meat should be pink in the middle. It means meat isn't overcooked and will be tender and succulent.
Garnish with onion slices and green onion stalks if desired, and serve in a large serving plate with peas and onion as a side dish.
https://geniuscook.com/wp-content/uploads/2008/12/ossobucodef-copy.jpg
245
300
Elena and Alfredo
https://geniuscook.com/wp-content/uploads/2014/02/gc-logo2.png
Elena and Alfredo
2008-12-15 12:25:01
2014-03-12 05:32:57
Recipe for Ossobuco with Peas