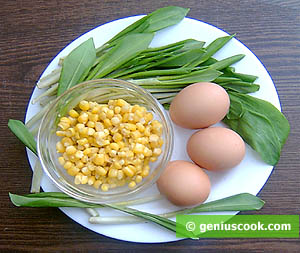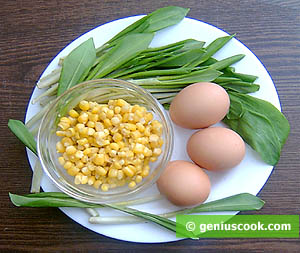 Ramson belongs to the onion family. The smell and taste of ramson resembles that of garlic. Juicy stalks and tender leaves are edible parts of the plant.
Ramson is rich in vitamins and chlorophyll and helps to lower blood cholesterol level. Fresh ramson is mainly used in salads. It goes well with boiled eggs and mayo. Ramson salad is very soft, light with mild garlic odor.
Ingredients for Ramson Salad
150 g ramson
3 eggs
300 g canned corn
Olive mayonnaise
Salt to taste
Recipe of Ramson Salad
Wash ramson and trim the ends of stalks.
Chop finely and save some leaves for garnishing.
Peel and chop hard-boiled eggs finely.
Combine corn, eggs and ramson in a bowl.
Add salt to taste and dress with mayo.
Place on a serving plate and garnish with greens.