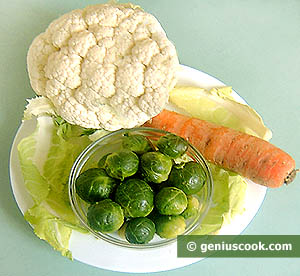 Pickled Vegetable Appetizer
Try his tasty pickled vegetable appetizer with fried Brussels sprouts. Brussels sprout is the major source of folic acid as well as of vitamin C. Folic acid is essential for proper development of our nervous system, while vitamin C is reputed to be the main antioxidant vitamin. In addition, Brussels sprout helps maintain nice and healthy face skin. It contains fiber, iron, phosphorus, kalium, the B vitamins and provitamin A.
Health Benefits of Carrots
Carrot is a rich source of carotene that turns into vitamin A in our body. No other fruit or vegetable has as much carotene as the carrot.
Health Benefits of Celery
Celery is one of the best spicy plants. Essential oils are responsible for its fabulous odor and distinctive taste. In addition to useful substances and minerals, celery offers vitamin U.
Health Benefits of Cauliflower
Due to its texture, cauliflower is easily-digested compared to other sorts of cabbage, so it is a good diet meal.
For this appetizer recipe you will need fried Brussels sprout and pickled vegetables. You can buy pickled vegetables, but it is better to make them at home using our easy recipe. You can change brine ingredients to suit your taste.
Ingredients for Pickled Vegetable Appetizer
300 g Brussels sprout
1 large carrot
1 celery
1 medium head of cauliflower
3 pickles
3 tablespoons (50 g ) butter
Ingredients for the Brine
3 garlic cloves
Coarsely ground coriander
Salt, pepper, sugar, vinegar to taste
2 onions
5 tablespoons (70 ml) vegetable oil
Saffron
Recipe of Pickled Vegetable Appetizer
Finely grate carrot and celery, break cauliflower into buds.
Place ingredients into separate bowls, add salt, pepper and sugar to taste.
Fry finely chopped onions in a large amount of vegetable oil until brown and sprinkle with coriander heavily.
Mash grated carrot and celery with hands until juicy, otherwise vegetables will be hard.
Then combine onion mixture with vegetables and add 2-3 tablespoons of vinegar.
Add a pinch of saffron to celery and cauliflower to give it yellow color.
Then chop garlic finely and add to vegetables. Let stand for 2-3 hours.
Fry Brussels sprout in butter from all sides and season with salt.
Place Brussels sprout, cut pickles and pickled vegetables on a serving plate.
Serve as a side dish to meat, poultry and fish.
https://geniuscook.com/wp-content/uploads/2008/03/for-ovoshi.jpg
276
300
Elena and Alfredo
https://geniuscook.com/wp-content/uploads/2014/02/gc-logo2.png
Elena and Alfredo
2008-03-06 19:31:20
2014-01-26 22:01:02
Pickled Vegetable Appetizer