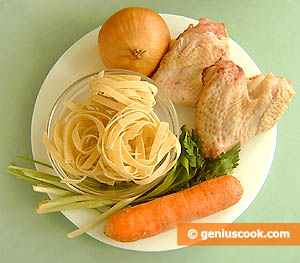 Chicken Soup with Noodles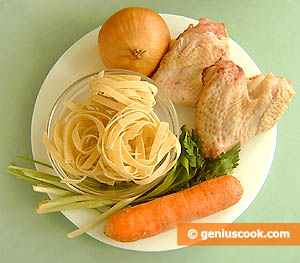 Soups are effective way to prevent gastritis and are known to help promote a healthy digestion and maintain slim figure. Chicken soup may ease your cold symptoms, because it contains substances that have anti-inflammatory properties. In addition, chicken broth is beneficial for blood vessels. Try this recipe with chicken wings and noodles. This soup will appeal to kids and adults. Get more soups into your diet to stay healthy.
Ingredients for Chicken Soup with Noodles
1 lb (1/2 kg) chicken wings
1 carrot
100 g noodles
1 onion
1 tablespoon tomato spicy sauce or any sweet and sour sauce
Spices and salt to taste
Sour cream
50 g ramson
3 parsley stalks
Bay leaf
Recipe of Chicken Soup with Noodles
Wash chicken wings and put in a pot.
Cover with 1.5 liter of cold water.
Bring to a boil and boil for 20 minutes. Remove foam with a skimmer.
Then add finely chopped carrot and onion.
Add bay leaf and any sauce to taste.
Let boil for 5-10 minutes.
Put noodles and keep boiling until noodles are tender.
Season with spices and add salt to taste.
Sprinkle with chopped parsley or ramson and serve immediately.
Dress with sour cream if desired.