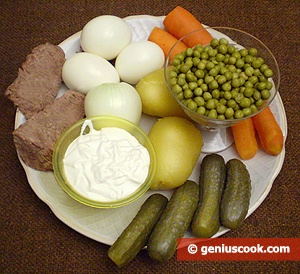 Winter Russian Salad Olivier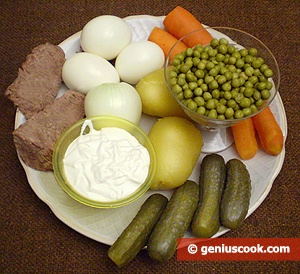 Russian Salad (or Salade Olivier) is a very popular holiday meal in Russia. It was named after Lucien Olivier who was the chef of French restaurant in Moscow in the 1860s.
During the Soviet period the salad recipe was evolving as the original ingredients were gradually replaced.
Today's version of "Salade Olivier" is a composed salad of boiled potatoes, pickles, green peas and sometimes ham, chicken or boiled beef dressed with mayonnaise.
This recipe only faintly resembles the original Russian Salad. It is also called "Winter Salad" due to availability of components in winter.
This salad is as amazingly popular now as it was in Soviet times because it is cheap and easy to make.
Ingredients for Winter Russian Salad Olivier
2-3 potatoes
2-3 carrots
300 g boiled beef
3-4 eggs
200 g green peas
1 onion
3-4 pickles
200 g olive mayonnaise
Salt and pepper to taste
Recipe of Winter Russian Salad Olivier
Wash vegetables and boil whole unpeeled potatoes, carrots and eggs.
Peel and dice boiled vegetables and eggs.
Add chopped meat and pickles.
Chop onion.
Stir everything and add green peas.
Season with salt, pepper and dress with mayonnaise.
Mix the ingredients well.
Put in a salad bowl and garnish with olives, greens or mushrooms.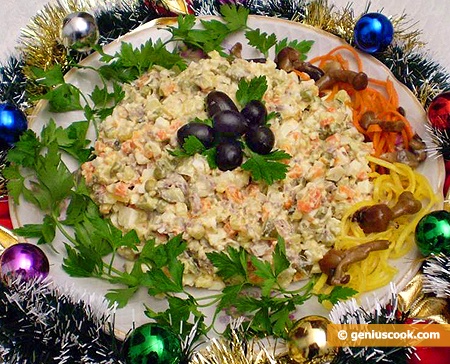 https://geniuscook.com/wp-content/uploads/2007/12/for-salad-russian.jpg
274
300
Elena and Alfredo
https://geniuscook.com/wp-content/uploads/2014/02/gc-logo2.png
Elena and Alfredo
2007-12-29 11:19:44
2014-12-12 17:45:17
Winter Russian Salad Olivier