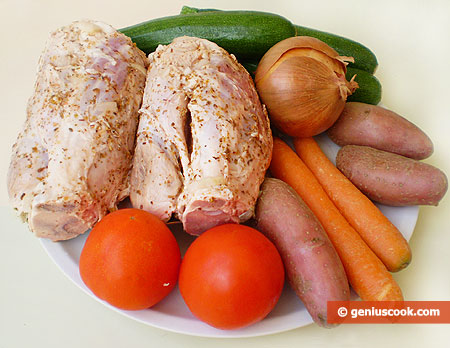 How to Bake a Pork Shank with Vegetables
To make your pork shank properly juicy and tasty you'll have to marinate it overnight. We had two small and not very fat shanks without skin. The photo shows them already marinated. You can bake any vegetables you like. Potatoes, zucchini, carrots and onions will be a good choice. Choose spices also according to your taste.
Ingredients for Marinade
2-3 onions
dried spices mixture: rosemary, thyme, oregano, white pepper
0.4 pt 4 % natural grape vinegar made of red wine
0.4 pt water
salt
Ingredients for Shank with Vegetables
2 small shanks
3 zucchini
2 carrots
2 tomatoes
1 onion
5 potatoes
black pepper, coriander, salt, bay leaf, dried origano (oregano), olive oil
Cooking Instructions
Shank should be marinated for about 14-15 hours, so it is better to marinate it the day before. To make marinade cut onions finely. Mash the onion together with dry spices and salt; drizzle the mixture with vinegar mixed with water. Pierce the shank with a knife in several places, put it in the marinade, press it down with something heavy and put out in a cold place.
When the shank is marinated put it (two shanks in our case) on a foil-lined baking sheet. Wrap the foil and bake the shank for about an hour, at the temperature of 300-320 degrees. The baking time depends on the shank's size.
Then take the baking sheet out of the oven, open the foil and place diced vegetables around the shank. You can dice the vegetables as you wish.
Salt vegetables and sprinkle them with olive oil slightly.
Add some coriander, black pepper and bay leaves. Sprinkle it with rubbed origano (oregano). Sprinkle it all with the marinade and wrap the foil again.
Bake the shank with vegetables for about an hour and a half more at medium heat. Unfold the foil 30 minutes before the dish is ready in order to let excessive moisture vaporize and get a nicely brown crust.
Serve the dish hot, cutting flavorful pieces off the shank and garnishing them with vegetables.