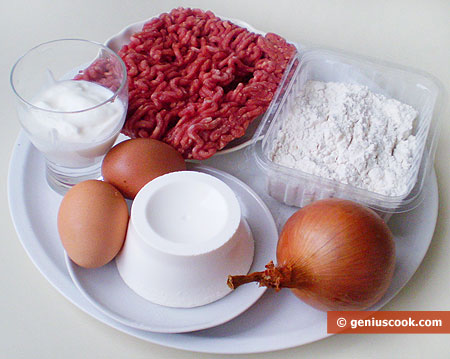 How to Cook Fried Pies with Meat
This is our favorite recipe for fried pies. The dough is made with cottage cheese and yoghurt and it comes out very soft. Since there is no cottage cheese in Italy we use ricotta. It is creamier than cottage cheese and it is made from whey not from milk. You can cook these pies very quickly especially when there is no time for making yeast-containing dough. You can take any filling for these pies according to your taste. We like pies with meat and sometimes we make them with cheese or mushrooms.
Ingredients for Dough
0.5-0.6 lb soft cottage cheese or ricotta
0.2 pt kefir or yoghurt
2 eggs
0.5 teaspoon baking soda mixed with 1 tablespoon vinegar
1.2 lb flour
salt
Ingredients for Filling
0.7-0.9 lb minced meat (it is better to mince it yourself)
1-2 onions
salt, pepper, oil
Cooking Instructions
Mix ricotta with kefir carefully. If you take cottage cheese better use a mixer or a blender, it will help you mix everything into a smooth paste.
Add two eggs, salt and baking soda.
Then knead soft dough adding flour gradually until it's not sticky. It may take slightly different amounts of flour. It depends on the quality and absorbing characteristics of the flour. As soon as the dough is no longer sticky don't add any more flour.
Shape dough into a ball, put it in a bowl and cover with something. The dough needs only about 20 minutes to mature. While the dough is maturing you can make the filling.
Peel onions and cut them into small cubes. Pour a little oil onto a frying pan. Sauté onions. Add minced meat, salt, pepper. Mix everything and fry for about 10 minutes.
When the filling is ready you can go back to the dough. You need to knead and roll it several times. The dough becomes very elastic.
Roll up the dough into a roll. Cut the roll into pieces of the same size.
Roll out each piece of the dough, put the filling in the middle of it and fix the edges carefully.
Fry the pies in vegetable oil, put them seam down first, then turn them over so that they are fried well on both sides. Fry them over medium heat.
https://geniuscook.com/wp-content/uploads/2010/02/Ingredients-for-Fried-Pies-with-Meat.jpg
359
450
Elena and Alfredo
https://geniuscook.com/wp-content/uploads/2014/02/gc-logo2.png
Elena and Alfredo
2010-02-28 05:04:55
2010-02-28 05:04:55
How to Cook Fried Pies with Meat