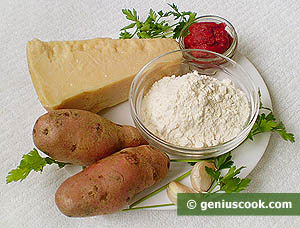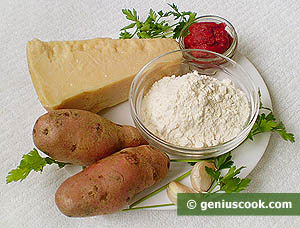 Gnocchi originated many centuries ago, and though this dish is usually associated with Italian cuisine, other nations also have it. Russians cook the similar dish which is called dumplings. Gnocchi, however, are traditional Italian food. In each part of Italy, gnocchi are cooked differently and served with a variety of sauces.
Traditionally, gnocchi are made with flour, potatoes, and sometimes, eggs. The main ingredient is potato that was introduced into Europe in 1500. Originally, the potato was grown for its lovely flowers that were used as decoration. The potato bulbs were recognized as a food only in 1600. Nowadays, the potato is very popular and there are lots of potato dishes. It is very healthy food, too. The potato is rich in carbohydrates in the form of starch and helps healthy digestion. In addition, the potato contains zinc, iron, magnesium, kalium as well as such substances as polyphenols and carotenoids.
Ingredients for Potato Gnocchi
2 old potatoes
2/3 cup (200 g) flour
Salt to taste
Ingredients for Sauce
1.3 lb (600 g) grated tomatoes
3 tablespoons (50 g) tomato paste
2 garlic cloves
4-5 basil leaves
4-5 parsley stalks
3 tablespoons (50 g) lard or olive oil
50 g Parmesan
Potato Gnocchi Recipe
Boil potatoes in their skin for 30 minutes.
Test doneness with fork. If fork spears the potatoes easily, remove from water and peel.
Mash the potatoes with a potato ricer (do not use blender to mash the potatoes).
Dust work surface with flour and place mashed potatoes on it.
Add flour and mix until dough.
If the dough is sticky, sprinkle with some flour. Make sure not to overmix, or undermix the dough, otherwise gnocchi may fall apart while boiling.
Gently roll the dough out into long, 0.4-thick rolls.
Do not flour the tubes of dough and cut them into pieces about one inch long.
Using your finger tip, press against a piece of the dough and roll it to shape an indentation in the middle. Gnocchi made this way are thinner.
Spread the gnocchi over floured paper towel to prevent them from sticking.
Sauce Recipe
Melt lard in a frying pan and sauté finely chopped garlic.
Add tomato paste and chopped parsley, reduce heat to low.
Cook for a minute, stirring continuously.
Now stir in grated tomatoes, salt and basil.
Simmer over low heat for 20-25 minutes.
When the sauce gets thick, turn the heat off.
How to Prepare Potato Gnocchi
In a large pan, bring salted water to a boil.
Drop the gnocchi into boiling water. As they float, take out with a skimmer.
Put the gnocchi in a deep bowl and mix with the sauce.
Then put on serving plates, pour the sauce over and top with grated Parmesan cheese.
Serve hot.
https://geniuscook.com/wp-content/uploads/2008/11/gnocchi-ingredients.jpg
228
300
Elena and Alfredo
https://geniuscook.com/wp-content/uploads/2014/02/gc-logo2.png
Elena and Alfredo
2008-04-28 05:38:48
2014-01-27 16:22:19
Potato Gnocchi