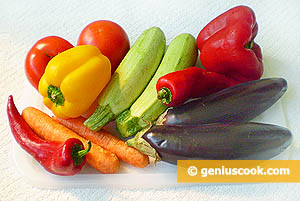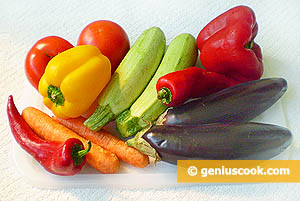 Vegetable rolls are so yummy and healthy. This appetizing-looking dish is a good starter that will add a twist to your diet. Marrow and eggplant rolls stuffed with simmered vegetables appeal to both adults and kids. Cheese and olives enrich the flavor of vegetables. This is a low-cal dish, so you can indulge yourself with something really tasty, even if you keep diet or watch your weight.
Ingredients for Vegetable Rolls
2 eggplants
2 carrots
2 medium marrows
2 tomatoes
1 onion
2 sweet peppers
3 garlic cloves
30 g Dutch cheese
50 g olives
3 tablespoons (50 g) olive oil
Salt to taste
6-8 lettuce leaves
Recipe of Vegetable Rolls
Wash all vegetables.
Cut marrows and eggplants lengthwise into thin slices.
Put aside outer slices and fry the rest of slices from both sides until golden.
To keep slices juicy, season with salt after frying.
Peel onion and carrots. Chop and fry until golden.
Put sliced red bell pepper and tomatoes and simmer everything together for 8-10 minutes.
Add finely diced outer slices of marrows and eggplants.
Cook over low heat for additional 10 minutes.
Add finely chopped garlic and salt near end of cooking time.
Fold up fried slices of marrows and eggplants and fix with toothpicks.
Line serving plate with lettuce leaves and arrange rolls nicely.
Spoon simmered vegetables into rolls.
Put nicely nut cheese chunks and olives on toothpicks.
https://geniuscook.com/wp-content/uploads/2008/11/veletables-for-roll.jpg
201
300
Elena and Alfredo
https://geniuscook.com/wp-content/uploads/2014/02/gc-logo2.png
Elena and Alfredo
2008-04-27 13:39:14
2009-03-18 03:37:07
Vegetable Rolls