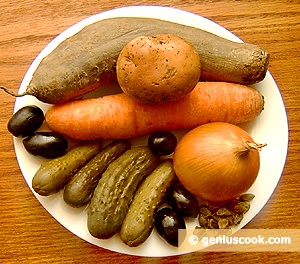 Red Beetroot Salad Vinegret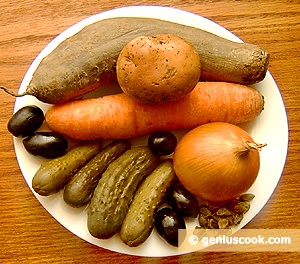 Vinegret is a salad made from boiled vegetables. Strange as it may seem, but antioxidant properties of carrot and beetroot still stay and even increase after boiling. How to boil the vegetables so, that they don't lose their healthy properties? Just don't peel and don't cut them before boiling. A specific taste of this salad is created by pickled cucumbers, and to make it more piquant we added capers and some black olives. They saturated the taste of the vegetables, and our vinegret became extremely tasty. Vinegret can be served as garnish for meet or fish and can be the main course for those who would like to lose weight. Salads made from boiled vegetables remove toxins from body, help maintain a slim figure and are very good for digestion.
Ingredients for Red Beetroot Salad Vinegret
1 red beetroot,
1 carrot,
2 potatoes,
3-4 pickled cucumbers,
1 onion,
20 g capers,
50 g black olives,
Olive oil to taste,
Salt to taste.
Recipe of Red Beetroot Salad Vinegret
Wash carrot, potatoes and beetroot.
Boil them whole till they become soft. Don't peel before boiling.
Cool the boiled vegetables and peel them.
Dice the vegetables. The dices should be small.
Chop onion and pickled cucumbers.
Wash capers from salt and cut as well.
Cut some of the olives into small pieces and leave the rest whole to decorate the salad.
Mix all salad ingredients, add salt and olive oil to your taste.
Serve on lettuce leaves and decorate with olives and beetroot cloves.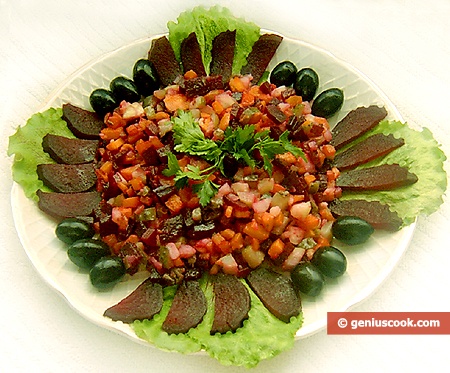 https://geniuscook.com/wp-content/uploads/2008/02/for-vinegret.jpg
264
300
Elena and Alfredo
https://geniuscook.com/wp-content/uploads/2014/02/gc-logo2.png
Elena and Alfredo
2008-02-24 04:46:43
2014-01-27 16:39:51
Red Beetroot Salad Vinegret