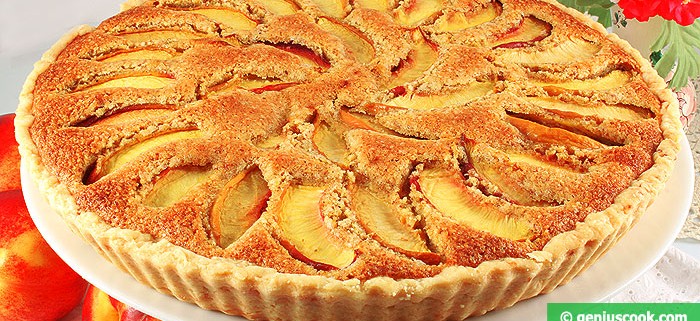 Nectarine Frangipane Tart
The taste of the tart turned out just awesome – ideal crumbly dough, slightly viscous filling with lots of almonds and juicy nectarines.
If served with a scoop of ice cream, it is very difficult to refuse the dessert.
Ingredients for Nectarine and Frangipane Tart
for the dough
Flour: 330 gr.
Butter: 150 gr.
Couple pinches of salt.
Water: 3 tbsp
for frangipane
Finely ground almonds: 200 gr.
Butter at room temperature: 150 gr.
Sugar: 180 gr.
Flour: 50 g.
Eggs: 2
for the filling
Thinly sliced ​​2 nectarines.
Recipe for Nectarine and Frangipane Tart
To make the dough, chop the flour with cold butter and salt into small crumbs, add some water.
Knead the dough. Flatten it along the bottom and sides of the mold. Put in the fridge for 30 min.
Cook the frangipane mixing well all the ingredients. Spread the frangipane over the surface of the dough.
Put sliced nectarines on top.
Bake for 40 min at 180C.