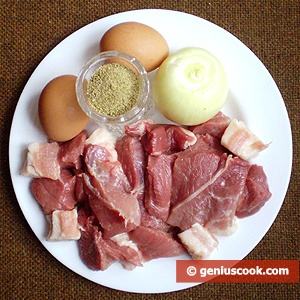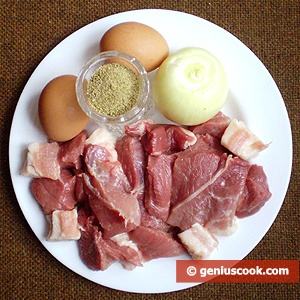 Meatballs are prepared from minced meat and are then stewed in sauce.
You get a nourishing dish pleasant for digestion. Such small meatballs are wonderful for children, they are soft and not heavy on the kid's stomach.
They can be prepared with any garnish – rice, pasta, buckwheat or potatoes. We have prepared meatballs with potatoes. Such a dish can be easily prepared for the festive table as main course.
Ingredients for Meatballs
1 kg pork (the meat should not be too fat),
2 onions,
2 eggs,
Salt to taste,
Black pepper to taste,
100 g long loaf crumb,
3-4 tablespoons milk,
Meal.
Ingredients for the Sauce
1 carrot,
1 onion,
2 tomatoes,
2 tablespoons tomato paste,
3 tablespoons adjika or any other sour-sweet sauce,
0,5 kg potato,
30 ml olive oil,
2 bay leaves.
Recipe of Meatballs
Wash the meat, cut into middle pieces.
Mince the meat together with onion.
Soak the loaf crumb in milk and add to the minced meat.
Mix two eggs with salt and pepper in another bowl.
Add this mixture to the minced meat.
Mix everything thoroughly.
Form meatballs and roll them in meal.
Fry in a pan till they become golden brown.
Preparation of the Sauce
Fry minced onion and carrot.
Add tomatoes, tomato paste and adjika.
Stew everything for about 3 minutes.
Add salt to taste, 200 ml water and the bay leaves, bring to boil. The sauce is ready.
Place all the meatballs into a stew pan and cover with the sauce.
Place potatoes cut into large pieces over them.
Stew everything for 15-20 minutes till the potatoes are ready.
That's it! Serve the dish hot.