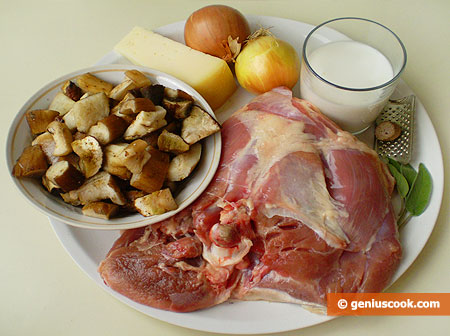 How to Cook Julienne with Turkey and White Mushrooms
This dish originated in France. All ingredients for julienne are cut thinly which goes for faster cooking and an especially delicate taste that practically melts in your mouth. Plenty recipes exist for julienne. There are vegetable, mushroom, fish, mixed juliennes; they can be thin or thick. You can even invent a new recipe for julienne according to your taste. Here is our own recipe. Julienne is usually baked in portions in small bakewares, cocottes or in one big form.
Ingredients for Julienne with Turkey and White Mushrooms
1.1 lb turkey meat
0.7 lb white mushrooms (you can take frozen ones)
2 onions
0.2 lb butter
1 tablespoon flour
1/2 nutmeg
3 saffron leaves
0.4 cup milk
0.4 lb any soft cheese
salt, pepper to taste
Cooking Instructions
Chop turkey meat finely (we took a drumstick).
Cut white mushrooms into thin strips. Cut onions into cubes.
Put a piece of butter the size of a walnut on a frying pan.
When butter is melted add one cut onion. Fry it until almost translucent, stirring constantly.
Then add the chopped meat and fry it quickly over medium heat until nicely brown for about 10 minutes. Salt it, pepper and heat the fire off.
Melt a walnut-size piece of butter on another frying pan, add cut onion, brown it slightly and put mushrooms at once. Fry them quickly for about 10 minutes, salt, pepper and heat the fire off.
Then you have to make béchamel sauce separately. This sauce is prepared by incessant stirring; you must not step away from the stove. Put one tablespoon flour on a clean dry frying pan. Heat the flour until creamy color, stirring constantly.
Add a slice of butter and cut saffron leaves, fry them slightly, no longer than a minute. Then thread milk, stirring the sauce to make it smooth. 2 minutes later add half of a nutmeg grated finely and salt. Turn the fire off. The ready sauce should have tender consistence, a creamy color and a splendid nutty flavor with nutmeg and saffron notes.
Put the meat into cocottes or any forms, top it with the mushrooms. Pour in béchamel sauce. Sprinkle it with grated cheese.
Bake it at the temperature of 320-360 degrees for about 20 minutes. When the cheese gets nicely brown the dish is ready. Serve julienne hot.
https://geniuscook.com/wp-content/uploads/2010/01/Ingredients-for-Julienne-with-Turkey-and-White-Mushrooms.jpg
336
450
Elena and Alfredo
https://geniuscook.com/wp-content/uploads/2014/02/gc-logo2.png
Elena and Alfredo
2010-01-11 15:47:59
2010-01-11 15:47:59
How to Cook Julienne with Turkey and White Mushrooms