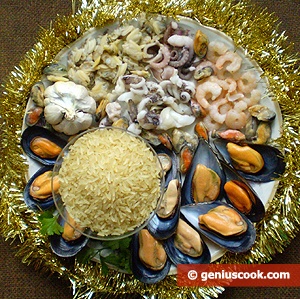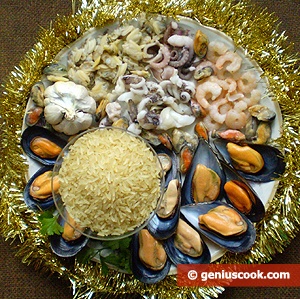 In Italy, this dish is called "Riso allo Scoglio" because "scoglio" is a stone in the sea around which shellfish live.
For this recipe you will need mussels, shrimp, clams, small octopuses and cuttlefish.
All these seafoods provide a good source for proteins, phosphorus, iron, natrium and vitamins A, B1 and B2.
Generally, shellfish have low calorie content and is good for digestion.
Usually, Italians serve this seafood rice with sea cocktail for special occasions and for Christmas.
This is delicious!
Try it!
Ingredients for Seafood Rice
200 g rice
1 lb mussels
250 g clams
150 g shrimp
150 g octopuses
150 g cuttlefish
50 ml olive oil
2 garlic cloves
1 parsley stalk
50 ml dry white wine if desired
Recipe of Seafood Rice
If you have alive mussels and clams, steam them until they are open.
Do not drain water after mussels. Filter the water and use it for rice.
If you have frozen shellfish, just remove their shell.
Shuck shrimps and remove their heads.
Use knife to scrape away slime from octopuses and cuttlefish.
Then, rinse it thoroughly and chop finely.
Put oil in pan and fry garlic cloves until golden.
Add finely chopped parsley.
Put seafood and fry everything a bit.
Drop rice into water from mussels.
Boil rice, stirring well. As the moisture evaporates, add water and wine.
When rice gets soft, the dish is ready.