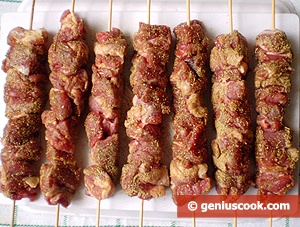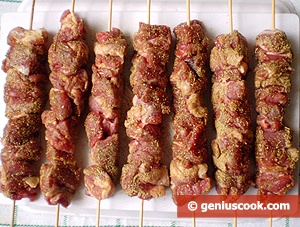 Lamb meat is very soft and rich in proteins. It is beneficial to seniors as this meat is tender and relatively low in fat. Moreover, lamb is the best natural source of zinc, and as we know zinc exerts a normalizing effect on the prostate and is important for proper functioning of all reproductive organs. What's more, latest studies show that zinc is essential for brain function. Well, this flavorous and healthy shashlik or shish kebab is worth making.
Ingredients for Lamb Shashlik
2 lb lamb
3 onions
3-4 bay leaves
½ cup (80-100 ml) wine or vinegar
½ (100 ml) water
Black pepper, spices and salt to taste
Recipe of Lamb Shashlik
Rinse meat and cut into medium pieces.
For marinade, dissolve

wine or

vinegar in water.
Add onion (cut into rings), bay leaf and pepper.
Sprinkle with spices and add salt to taste.
Put meat into marinade and marinate for 3-4 hours.
Then thread the meat onto skewers.
Additionally sprinkle with spices if desired.
Cook on grill until brown, turning skewers frequently.
Be careful not to overcook and spray with marinade if needed.
Serve shashlik immediately with vegetables.