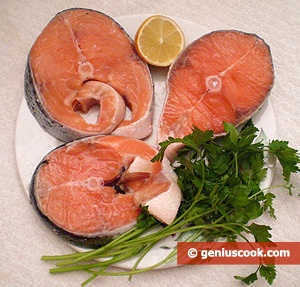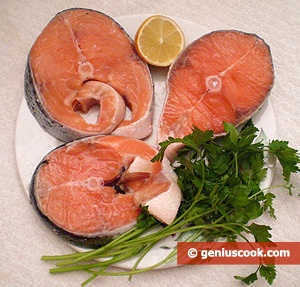 Fish is high in nutrition value not only because of protein but also due to the increased content of Omega-3 and Omega-6 fatty acids, especially in fatty fish such as salmon or trout.
These polyunsaturated fatty acids are highly physiologically active.
Do you want to have retentive memory? Just eat more fish. Actually, our brain suffers from malnutrition not less than our stomach. Our lifespan and memory quality largely depend on the right dietary balance. This is another point of support for fish.
Ingredients for Salmon with Lemon Juice
2lb salmon
1 lemon
1 parsley stalk
Salt to taste
Recipe of Salmon with Lemon Juice
If you have frozen fish, defrost it.
Scale and rinse with water.
Dry with paper towels.
Cut into 1-inch thick pieces.
Add salt to taste.
Put in a hot frying pan.
Fry without oil (both sides for 10 minutes).
When fish is ready, squeeze over a lemon juice of a lemon before serving.
As salmon is fatty, it goes well with parsley and pickled vegetables.