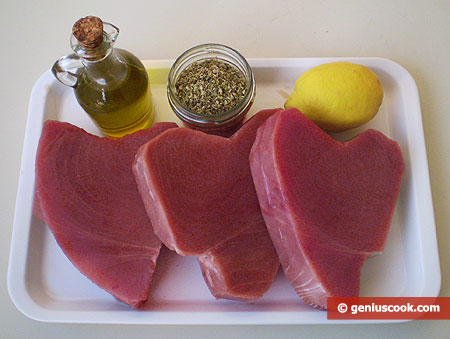 How to Cook Grilled Tuna Steaks
Tuna is a very wholesome fish; its flesh is rich in omega 3 fat acids. Tuna steaks are like beef steaks, they are the same dark color. They are also grilled in the similar fashion. It is important not to overdry the fish. Usually the muscles that run along the backbone are taken for steaks; they are not fat and even a little dry. But if you fry steaks the right way they will be soft enough. The main thing is to put fish on pre-heated grill to prevent the juice from leaking at once.
Ingredients for Grilled Tuna Steaks
3 tuna steaks
lemon juice, black pepper, olive oil, oregano, salt: all to taste
Cooking Instructions
If the steaks were frozen you will have to defrost them gradually, placing them on the bottom shelf of the fridge. Then dry the tuna pieces with a paper napkin.
Heat the grill well. Put the steaks on the heated grill and after about 2 minutes turn them over.
When the juice has been sealed inside, lower the grill temperature to avoid burning the tuna flesh and let it bake evenly. The total cooking time depends on the thickness of the steaks. But about 4-5 minutes for each side should suffice.
Spread the ready steaks on plates. Squeeze out lemon juice right over the steaks. Water them with olive oil liberally.
Salt and pepper to taste. Then strew the steaks with oregano and the dish can be served at once.
https://geniuscook.com/wp-content/uploads/2010/03/Ingredients-for-Grilled-Tuna-Stakes.jpg
339
450
Elena and Alfredo
https://geniuscook.com/wp-content/uploads/2014/02/gc-logo2.png
Elena and Alfredo
2010-03-20 14:52:09
2014-10-06 13:35:46
How to Cook Grilled Tuna Steaks