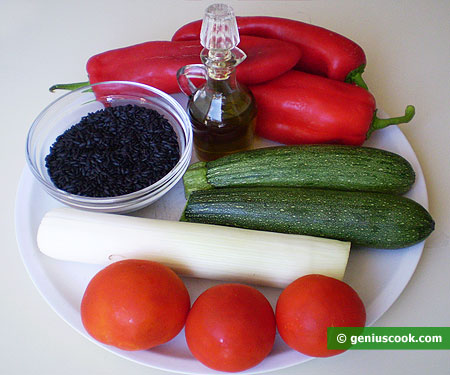 The Black Rice with Vegetables Recipe
This vegetarian dish is on the list of wholesome dishes compiled by the MAYO clinic. It can make part of any healthy diet, slimming diet, or a diet for cleansing the body and maintaining normal weight. Dietitians consider black rice to be one of the healthiest foods on the globe.
Ingredients for Black Rice with Vegetables
1 glass black rice
1 stalk leek
2 zucchinis
2-3 sweet pepper
3-4 tomatoes
olive oil, salt
Recipe for Black Rice with Vegetables
Pour 3 glasses of water into a pan, put in black rice, 1 teaspoonful of salt and 1 tablespoonful of olive oil. Boil for about 40 minutes at low heat with the pan covered, stirring time and again.
Pour some olive oil into a deep frying pan. Cut leek into rings and fry until translucent.
Add finely cut tomatoes, zucchinis and sweet pepper. Salt to taste, simmer until ready.
Serve putting the rice first and placing the vegetables in the centre. Or you can mix the rice with the vegetables on the frying pan and serve as risotto.