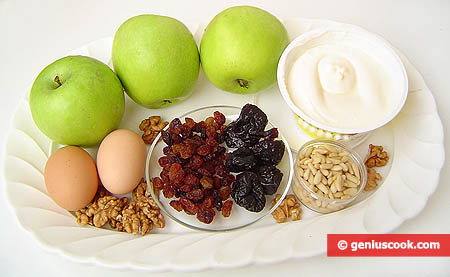 This apple pie is so easy to bake that even an unskillful housewife will handle it. Dough comes out very soft, flavored with apples, raisins and prune. And walnut and pine nuts add a bite to this pie. Pie with green apples is always good, with its well-balanced and sourish taste. Doctors and dieticians say we have to eat apples as often as possible. That's because apples are the richest source of pectin that regulates sugar and cholesterol levels in blood.
Ingredients for Apple Pie
2-3 green apples
3 eggs
50 g butter
100 g ricotta cheese
300 g sugar
250 g flour
50 g raisins
50 g prune
50 g walnut cores
30 g pine nuts
Salt
Teaspoon of baking soda mixed in a tablespoon of vinegar
Breadcrumbs
Cooking Instructions
Beat eggs with a glass of sugar and pinch of salt.
Add soft butter and ricotta cheese. Blend everything with a mixer at medium speed.
If there is no ricotta cheese available, make it yourself. Beat 100 g fat cottage cheese with 3-4 tablespoonfuls of sour cream.
Add flour and knead dough. Add finely chopped prune, walnut and raisins into it. Add baking soda mixed with vinegar and stir with a spoon well.
Coat a round baking sheet with oil and sprinkle with breadcrumbs heavily.
Pour the dough into the baking sheet and spread evenly with a spoon.
Now top the dough with apple slices and sprinkle with pine nuts.
Transfer the baking sheet into well pre-heated oven and bake for about 30 minutes at the temperature of 350 F. Turn the baking sheet around to ensure the pie is baked evenly.
Bake until nicely brown, turn the heat off and leave the pie in the stove until it cools down completely.
Serve.