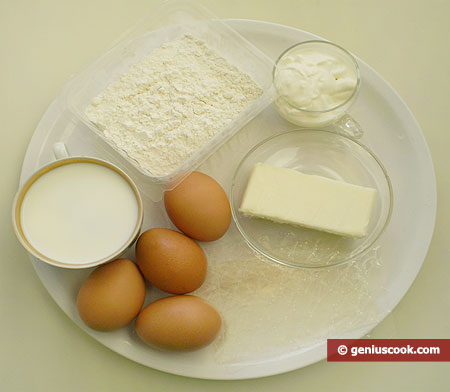 It is not very difficult to cook the "Pigeon milk"- a cake with airy soufflé cream and soft biscuit. However it will take you quite a while. But you can afford some time to delight your family with fresh homemade bakery. Homemade bakery always tastes better and is healthier because we use only natural foods.
Ingredients for Biscuit
4 yolks
0.4 lb or 1 cup flour
0.2 lb/ 100 g sugar
0.2 pt/ 100 g cream
0.2 lb/ 100 g butter
1 baking powder bag or a teaspoon of baking soda mixed in a tablespoon of vinegar
1 pinch salt
Ingredients for Cream
4 whites
0.2 lb/ 100 g butter
0.7 lb/ 300 g sugar
0.4 pt/ 6.8 fl oz milk
0.03 lb/ 15 g sheet gelatin
Ingredients for Icing
5 tablespoons sugar
4 tablespoons water
3 tablespoons cocoa
0.07 lb/ 30 g butter
Cooking Instructions
Mash yolks with sugar; add cream, soft butter, baking powder, salt and flour. Knead soft dough.
Oil the baking sheet and dust it with breadcrumbs. Put the dough into the baking sheet and press flat with a spoon.
Put the baking sheet with the dough into an oven, pre-heated up to 350 F (180 C) degrees. Bake the biscuit for about 20-25 minutes. As soon as it browns a little turn the heat off and leave the biscuit in the oven to cool, with the oven door slightly open.
In the meantime you need to make cream. Put sheet gelatin in a little pot and pout over with cold milk. After about 15 minutes put the pot on very low heat, heat up stirring constantly. Don't boil it. When the gelatin is fully absorbed, turn off the heat. Cool the mixture at room temperature.
Mash butter with 0.2 lb sugar in a big bowl. Then beat with a mixer at low speed, adding the milk and gelatin mixture gradually. Beat it all into thick cream.
Beat the cooled whites with a pinch of salt and a drop of lemon juice in another bowl. Then add 0.4 lb sugar, set the mixer to high speed and beat it all into a dense foam. Beaten whites should stay on the whisks.
Add the butter and gelatin cream into a bowl with the whites gradually, beating it up ceaselessly with a mixer at low speed. When all the mixture is in stop the mixer after about two minutes. You must get thick cream.
Then you must cut the biscuit crust into halves. You can cut it along or across. It depends on the size of your baking sheet, whether you want to get a high or not very high crust.
Spread the biscuit with cream, top with another crust and spread it with cream too.
Put the cake into the fridge for an hour. Then take it out, pour over with icing, decorate with candied fruit, chocolate or whatever your heart desires.
For icing mix sugar, cocoa, water, butter and boil the mixture. Boil it a little and then cool. It will thicken while cooling, so it is important to choose the right moment and pour it over the cake. When the icing is too thick it will make the task difficult.
https://geniuscook.com/wp-content/uploads/2009/10/for-tort.jpg
392
450
Elena and Alfredo
https://geniuscook.com/wp-content/uploads/2014/02/gc-logo2.png
Elena and Alfredo
2009-10-07 12:35:26
2011-05-01 12:55:35
"Pigeon Milk" Cake