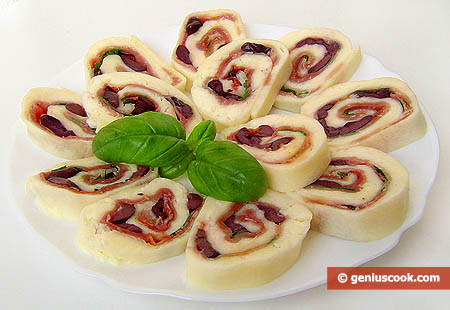 Prosciutto Ham Stuffed Mozzarella Roll
Mozzarella is a soft Italian cheese. When heated, this cheese becomes flexible in texture. That's why it's easy to make Mozzarella rolls with various stuffings. Try our Mozzarella rolls stuffed with Prosciutto ham you can pick up in Italian groceries where it is available in slices thin as paper. To add zest we used black di Gaete olives with pungent and astringent taste and flavorful basil. You can make these rolls for holiday meal because they are nice-looking and delicious.
Ingredients for Mozzarella Roll with Prosciutto Ham
1-1.2 lb Mozzarella cheese
150 g Prosciutto ham
100 g black olives
Parsley, couple of basil leaves each
Cooking Instructions
Pour 3.5 pints (2 liters) of water in a large pot and put it on a stove.
Wrap Mozzarella in a plastic bag. Fix the edges so that water doesn't get into the bag.
Dip the bag into boiling water and cover.
While Mozzarella is melting, pit olives and wash greens.
After 8-10 minutes of boiling, remove the bag from water,
Put melted Mozzarella on the table and roll it out into a disk.
Put a layer of Prosciutto ham on Mozzarella disk.
Top with olive slices and sprinkle with basil and parsley.
Fold into roll quickly until Mozzarella is still warm.
Place the roll in a fridge for 20 minutes.
Wait until the roll is fully cooled down. Then cut nicely and serve.
https://geniuscook.com/wp-content/uploads/2010/03/prosciutto-ham-stuffed-mozzarella-roll.jpg
310
450
Elena and Alfredo
https://geniuscook.com/wp-content/uploads/2014/02/gc-logo2.png
Elena and Alfredo
2009-03-31 00:00:18
2014-07-24 06:12:52
Prosciutto Ham Stuffed Mozzarella Roll