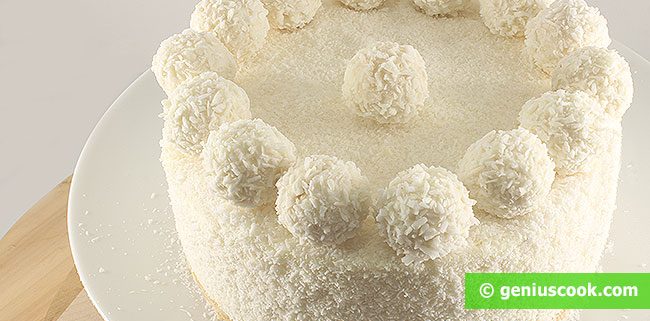 This is a very delicious and delicate treat. Preparing is easy. You will be surprised at how simple you can make this awesome treat.
Ingredients for Raffaello cake
For base
Crackers: 100-110 gr.
Butter: 60 gr.
Cold water: 1 tbsp.
For cake
Coconut chips: 100 gr.
Cream cheese Philadelphia: 250 gr.
Ricotta: 250 g.
Condensed milk: 400 g.
Cream: 250 ml.
Sugar: 2 tbsp.
Gelatin: 16 g.
Raffaello candy for decoration: how much will be needed. You can cook them on this Recipe
Recipe for Raffaello cake
Crackers grind into a crumb. Add melted butter, water. Mix.
Apply this mixture to the bottom of the mold with a diameter of 16-18 cm, covered with parchment.
Send to the fridge for 10-20 minutes.
Gelatin put in cold water.
Warm cream with sugar until a boil. Turn off the fire and add gelatin.
Stir until the gelatin is completely dissolved, and allow to cool to a slightly warm state.
Put all the ingredients in a large bowl and beat with a mixer.
Place the mixture in a mold, smooth it, and send it to the refrigerator for 5-6 hours, or better at night.
Put the well-chilled cake out of the mold, transfer it to a dish, sprinkle with coconut chips. Decorate with sweets.
Enjoy!