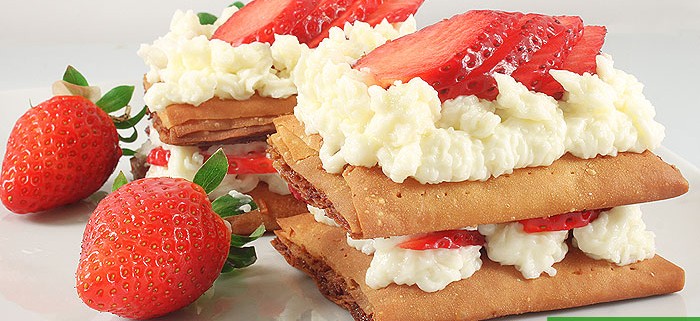 Fragrant strawberries, sweet cream, and a thin crispy base. Your dearest and nearest will be grateful and will ask for an extra treat. It's a good idea for a romantic dinner.
Ingredients for Millefeuille with Strawberries and Cream
for 8 pieces
Filo dough: 100 gr.
Cream cheese Mascarpone or Philadelphia: 150 gr.
Coconut chips: 2-3 tablespoons.
Sugar: 2-3 tablespoons.
Butter: 50-80 gr.
Strawberry.
Recipe for Millefeuille with Strawberries and Cream
Lay dough on a baking sheet. Grease the surface with melted butter using a brush.
Sprinkle it with sugar. Cover with another sheet.
Fold the sheets 3 times, cut them with scissors into small squares of the size you want.
Apply them on top of each other to get 8 puffs.
Pierce them with a fork many times, so that they did not grow much while baking.
Bake until golden color,

in a pre-

heated oven

at 180

C

,

about 5-6

minutes.

.
Prepare the cream by combining cheese, coconut, and sugar.
Put cream and thin slices of strawberries on the cooled puffs.

You can make

two layers

,

as we do,

or leave them

in one layer

.

Do

as you wish.