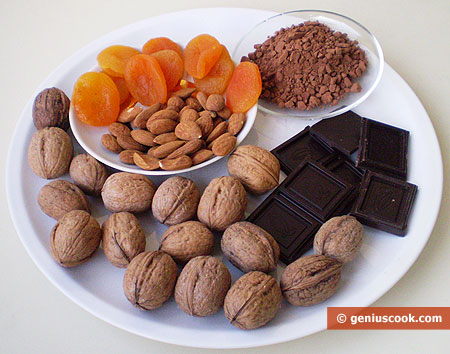 The Recipe for Homemade Chocolates with Nuts
In the time when chemicals and non-natural components are freely used in many brands of sweets almost all parents worry about their children's health. It is well known that sweet foods are necessary for the child's proper brain development. Grownups also need something sweet. We're giving you a recipe of easy homemade chocolates with nuts which will delight all your family, enhance your health and lift up your spirit.
Ingredients for Homemade Chocolates with Nuts
0.3 lb 70-75% black bitter chocolate
0.2 lb walnut cores
1.1 oz almond nuts
0.2 lb dried apricots
0.1 lb sugar powder or sugar
5 tablespoons milk
cocoa powder as much as needed
Cooking Instructions
Grind walnuts, dried apricots and sugar using a combine or a pounder until smooth.
Form from the fruit and nut paste little balls the size of a walnut, put a whole almond nut into every ball.
Melt chocolate, add milk and mix it well.
Place nut balls on a wide plate. Water them with the chocolate.
When the chocolate has set a little, sprinkle a good deal of dry cocoa powder on a plate and roll the balls in it.
Place the ready chocolates in a fridge for 1 hour.