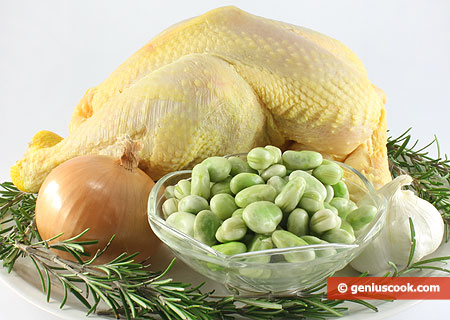 The Cock Stuffed with Beans Recipe
We happened to buy a specially fatted cock which is called a capon. These cocks brought up for meat are cut as soon as they are born. Though capons traditionally belong to the French Christmas cuisine, Italians like this tasty poultry too. You can often buy capons in Italian shops and not only before Christmas. You may cook capon any way, it will always come out tasty. Commonly one bakes the whole bird in an oven, sprinkling it with its own fat. You can also stuff it with something, for example, with beans. In order not to sprinkle the capon every 20 minutes we decided to simplify the task and wrapped the capon in foil. We got white meat that melted in our mouth and the beans were tasty too.
Ingredients for Stuffed Cock
1 capon
3 garlic cloves
1 stalk or 1 teaspoon dry chopped rosemary
2 cups white wine
1 teaspoon curry
ground black pepper, salt
Ingredients for Filling
1 cup green frozen beans
1-2 onions
couple of coriander peas
ground white pepper, salt, oil
Cooking Instructions
Grind garlic with rosemary, salt and pepper. Add curry and white wine. Dip the bird in this mixture, give it a good rub all round. Leave it for about 4 hours to soak. Turn the capon over 3-4 times during this time to get it marinated in this flavorful mixture better.
While the bird is being marinated, make the filling. Cut onions into cubes, sauté it slightly in a little oil. Then pour in 1 cup of water and add green beans. Simmer the beans over low heat until they are soft. If they get dry, add some more water. The beans should be soft, but without excessive moisture. Salt them at the end of cooking, add pepper and ground coriander.
When the bird has marinated well, stuff it with the beans. Fix the hole edges with wooden skewers.
Put the cock on a baking sheet lined with foil, sprinkle it with wine, and wrap it in the foil carefully.
Bake the cock for about 2-3 hours. The cooking time depends on the cock's size. After about an hour or an hour and half unfold the foil to let the bird get nicely brown with a crispy crust.
https://geniuscook.com/wp-content/uploads/2010/03/Ingredients-for-Cock-Stuffed-with-Beans.jpg
320
450
Elena and Alfredo
https://geniuscook.com/wp-content/uploads/2014/02/gc-logo2.png
Elena and Alfredo
2010-03-04 05:32:12
2010-03-04 05:32:12
The Cock Stuffed with Beans Recipe