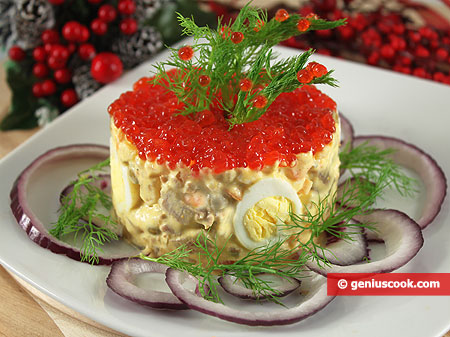 Olivier Salad, Festive Version
There are currently many Olivier salad recipe versions.
The first recorded version dates back to the early 1900s. That is, the salad is more than 100 years old. If it weren't tasty, it would long be forgotten. Over time, the recipe has changed while the products have become more affordable and popular.
The original recipe was lost, as its creator, Lucien Olivier did not want to reveal all the secrets of his salad, which enjoyed a crazy success. Therefore, people began adding the products they managed to identify and remember.
Imagine that the French chef added black or red caviar, capers, grouse, olives, and crayfish into his salad. The mayonnaise salad dressing was made from good olive oil. This salad can rightly be considered refined.
Moreover, it is radically different from the familiar Soviet-version Olivier salad. The worst variant includes cheap sausage and a dressing from the purchased chemical mayonnaise
The salad, which we offer you today, is very similar to the first version recorded by a gourmet who tried the salad from Lucien Olivier.
Ingredients for Olivier Salad
Veal tongue: 1.
Quail 1-2.
Boiled crayfish tails, lobster tail, langoustines (Norwegian lobster or shrimp Irish, they have the same meat to taste like lobster) or crabmeat: about 300 grams.
Boiled quail eggs: 12-15 + 1-2 for decoration.
Small pickled capers: 3-4 tbsp
Pitted olives: 200 gr.
Onions: 1-2.
Boiled carrots: 1-2.
Pickled gherkins 5-6.
Salt, black pepper freshly ground.
Red caviar.
Recipe for Olivier Salad
Boil the tongue until soft, remove the skin, placing it hot under cold running water.
Boil the quail and separate the meat from the bones.
Chop all the ingredients finely.
Mix everything in a large bowl, salt, pepper and season with olive mayonnaise.
Leave the salad for a couple of hours in the refrigerator.
Before serving, decorate with red caviar and any greens.
The salad can be served in a common dish or portioned, laid out in circles.