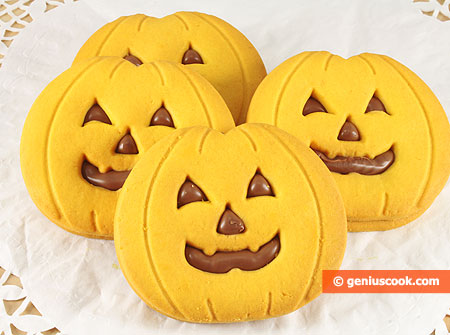 It's not a proper recipe – just a tip how to conjure up exciting cookies for the holiday Halloween. Simple and very easy way of making dough for cookies can be found Here, or another interesting recipe Here
Color up the dough with saffron, making it yellow. Or just take the eggs with bright orange yolks that sell specifically for dough.
Bake half of the cookies in the usual way, and make little pumpkins out of the other half, making incisions for eyes, nose and mouths.
Stick two different cookies together piling Nutella, or any cream with cocoa, or jam, or any kind of custard on one and pressing the pumpkin cookie down so that the cream comes out of incisions.