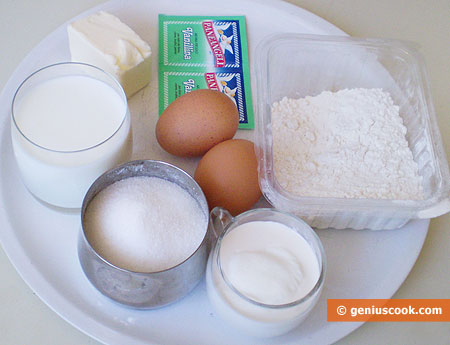 The Sweet Roll with Raisins Recipe
A roll made from yeast-fermented dough with raisins will charm you with its exquisite taste and simplicity of making. It is a good addition to the Christmas table. Homemade pastry is always better than that bought in stores, for at home you won't be using trans-fats and other harmful additives that spoil your health and your body alike.
Ingredients for dough
1.4 lb flour 00
0.53 pt milk
5 tablespoons yogurt
2 eggs
0.2 lb butter
0.2 lb sugar
1 teaspoon salt
1 bag vanilla
0.1 lb fresh yeast
Ingredients for filling
1 cup raisins
1 Egg
3 tablespoons sugar
Recipe for Sweet Roll with Raisins
Prepare dough according to the recipe Vanilla Buns
Wash raisin, mix with an egg and some sugar.
Roll the dough out into a sheet, place raisin in a thin layer, roll up the sheet and pinch the ends closed.
Put the roll on a baking tray seam down. We made two rolls with the given amount of dough.
Bake at 356 degrees until the rolls become nicely brown; it will take about 40 minutes. Cut the roll when it has cooled down.