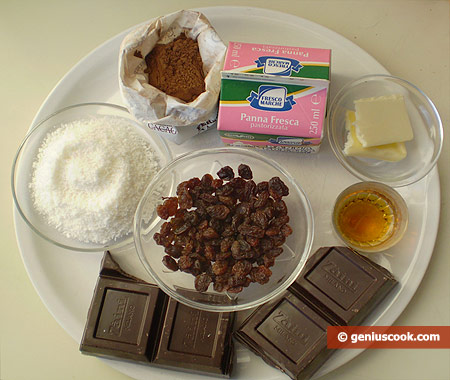 Try tasty chocolate truffles with raisin soaked in rum. The flavorful coating of coconut shavings makes an exquisite addition to their taste. These home-made sweets are easy to make, but they are a really great delight! Here's the treat that will do fine for a romantic supper.
Ingredients for Chocolate Truffles with Raisin
0.55 lb 70% dark chocolate
0.4 lb 35% cream
1 oz butter
3 tablespoons cognac
2 tablespoons cocoa powder
a handful of raisin soaked in rum for 4 hours.
coconut shavings for coating
Recipe for Chocolate Truffles with Raisin in Coconut Shavings
Make ganache according to the recipe Chocolate Truffles
Add the squeezed-out raisin to the chocolate mixture and mix well. Place into the fridge for 8-10 hours.
Put coconut shavings on a plate. Take the mixture out of the fridge, scoop it with a small spoon and roll up into small balls.
Roll them around at once several times in the shavings and put away on a dish covered with parchment. Put them away into the fridge for 3 hours.
The truffles will keep in the fridge for several weeks.