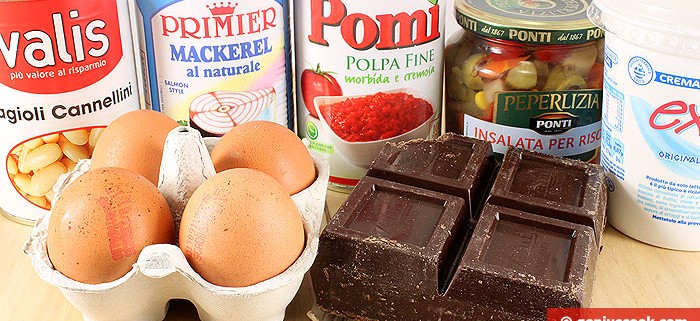 10 Kinds of Expired Products that Can be Eaten
Do you throw away food immediately past the expiration date? Do not hurry to do this. Most people think that such products may cause some damage to health. If stored properly, this is not always the case!
To find out if the products can still be consumed, smell them and evaluate the way they look and taste. In fact, many products are well preserved even after the expiration date.
Be thrifty and do not throw away good foods.
White or Fruit Yogurt
can be eaten within a week after the expiration date, if it is kept sealed in the refrigerator. It will only have fewer enzymes, but the rest will be the same. It is clear that when you open it, there should not be any change in its appearance, taste, or smell. But if you do not trust the yogurt past the expiration date, you can use it to bake something-

pancakes,

muffins

, waffles

or

donuts.

Everything

this is

perfect for breakfast

.
Canned foods


peeled tomatoes

,

canned tuna

, mackerel, peas, beans, corn

and many other

canned foods,

which are

all

at home,

can be consumed even one year past the expiration date, if you keep them in a cool dry place. The can should be in perfect condition, without dents or bulges. Bacteria should not get into cans during storage. Of course, this food must be heat-treated.

That is,

such

canned

,

you can use for cook

soup,

sauce

for pasta

,

add to

roast

, etc.

Chocolate


if you're

hungry for

chocolate,

you don't have

problems of its

conservation

.

But

if you are

moderate

consumers

of chocolate

, you

need to know – chocolate

can be stored for over two years. Its taste simply gets less intense. But it would be ideal for the manufacturing of sweets.

For example,

from

this chocolate

possible to make

–

pudding,

cake

or

muffins

.
Rice and pasta
can be used within one year after the expiration date. It is important to keep them in a package or in a closed glass jar.
Vacuum dried products (lyophilisates)


coffee

, purees, soups, teas, etc.
can be safely consumed during one year after the expiration date, if the package is sealed. If it has been opened, one should not keep them more than one month.
Cheese
the storage time depends on the type of cheese. Hard cheeses are stored for 10-12 months.

For example,

Parmesan

wrapped in

a breathable

fabric,

can be stored

in the refrigerator for

a year

or more.

Soft cheeses will last only 10 days.

Before eating

you should always

look

–

that cheese are not

yellowed

. Fresh cheeses like mozzarella or ricotta can be used in cooking if their shelf life has expired-

lasagna

,

pizza

, casseroles

and

pies

.
Eggs
fresh eggs are stored in the refrigerator for 21 days. Around this date, eggs can be eaten cooked. However, for mayonnaise or tiramisu, you should always use only the freshest eggs.

To check the

validity

eggs,

there is

an infallible

test –

dip

the egg into

a glass of water

.

If

it remains

at the bottom

– the egg

is fresh,

but if it

pops

up,

it

should be throw away

.

Hard boiled

eggs can

be stored in the

refrigerator for one week

.
Sterilized milk
long shelf life of milk can be safely extended even up to 1 month after the expiration date.

Of course

if the box

has not been opened

.

Such milk

is good for

cooking

cakes,

custard

and pudding

.
Cookies
can be eaten without problems after the deadline if the storage package has been closed tightly.
Frozen foods
can be eaten even a few months after the date on the package.

If

you

are prepared

frozen foods

, it is better

to write

the date

on the package.
All of these tips apply to quality products, manufactured to the highest standards.
https://geniuscook.com/wp-content/uploads/2015/01/prodotti.jpg
467
700
Elena and Alfredo
https://geniuscook.com/wp-content/uploads/2014/02/gc-logo2.png
Elena and Alfredo
2015-01-05 15:25:33
2015-01-05 15:25:33
10 Kinds of Expired Products that Can be Eaten