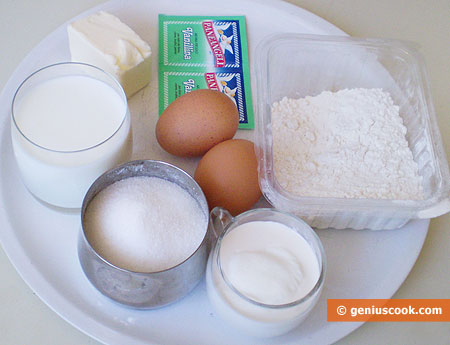 Fresh buns smelling of vanilla will be just right for breakfast. You can make them any shape. The dough is easy to make, and you can use it not only for buns, but also for making rolls with all kinds of fillings.
Ingredients for Vanilla Buns
1.4 lb flour 00
0.53 pt milk
5 tablespoons yogurt
2 eggs
0.2 lb butter
0.2 lb sugar
1 teaspoon salt
2 bags vanilla
0.1 lb fresh yeast
Recipe for Vanilla Buns
Dissolve yeast in warm milk. Add eggs, soft butter, yogurt, vanilla, sugar and salt. Mix everything.
Adding flour gradually, knead soft, elastic dough that won't stick. The more you knead it the lighter it will be.
Make it into a ball, place it in a deep dish, cover up with a towel and put in a warm place.
When about an hour has passed and the dough has grown twice its size, put it on the working table and knead for about 10 minutes. Then break it into small balls and form buns.
Place the buns on a baking tray and leave them for about 40 minutes to settle.
Smear some egg over the buns and put them into a well pre-heated oven for 30 minutes. When they have become golden, they are ready.