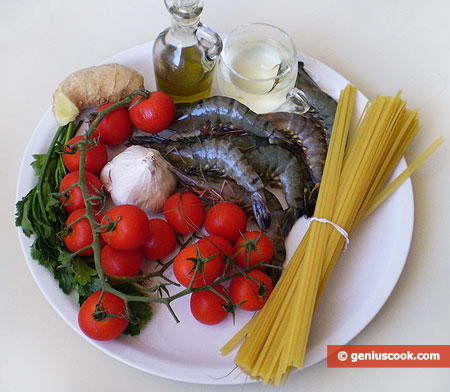 The Recipe for Linguine with Ginger Sauce and Tiger Shrimps
The Linguine pasta is long and a little flattened. It goes very well with a thick sweetish sauce with tiger shrimps seasoned with ginger. People who are fond of pasta and seafood are sure to like this dish.
Ingredients for Linguine with Shrimps
1.2 lb tiger shrimps in shells
0.8 lb cherry tomatoes
0.32 pt dry white wine
2 garlic cloves
3 sprigs parsley
1 tablespoon grated ginger
0.8 lb linguine
olive oil, salt
Recipe for Linguine with Ginger and Shrimps
Pour 4 tablespoonfuls of oil into a deep frying-pan. Fry garlic cloves, then add diced parsley.
In a minute put in quartered cherry tomatoes. Simmer for about 5 minutes, then add wine and grated ginger. Simmer the sauce for 3 minutes more.
Put the shrimps into the sauce, salt to taste and turn off the heat after 5 minutes.
Pour 1 gallon of water into a pan. Add 2 tablespoonfuls of large-grain salt. When the water boils put in linguine. Boil for the time stipulated on the package, stirring regularly.
Pour the sauce over linguine, put a few shrimps on top and serve.